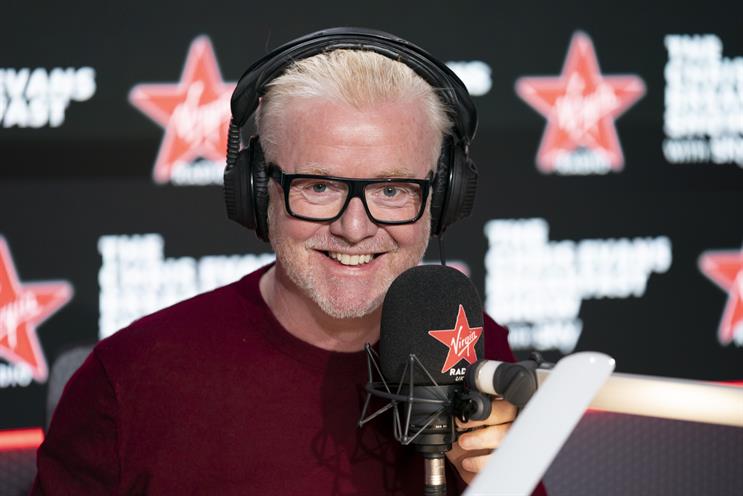 Chris Evans attracted more than one million listeners (1.05 million) a week to his new breakfast show on Virgin Radio during the first three months of the year.
However, that is eight million fewer than those who tuned in to The Zoe Ball Breakfast Show, which replaced Evans' programme in the same slot on BBC Radio 2, each week.
According to the latest Rajar figures, Evans managed to pull in more listeners than The Chris Moyles Show on Radio X (982,000) and the breakfast programme on Hits Radio (336,000), and only a few hundred thousand fewer than talkSPORT (1.4 million) and Magic (1.3 million).
Evans started broadcasting on News UK-owned Virgin Radio on 21 January. The show is entirely advertising-free and is sponsored by Sky.
He said: "Last year, I said I wanted a new mountain to climb. And the view from the top of the News Tower isn't half bad. But really this is just base camp. I'm back in my spiritual home and loving every minute of it."
Biggest commercial radio audience
Commercial radio reported its biggest-ever audience of 36.1 million listeners in the first quarter of 2019, a lead of 1.7 million on the BBC.
The commercial sector accounted for a 45.7% share of radio listening, up slightly (0.5%) year on year. Commercial radio's share of listening increased by 1.8 percentage points year on year among 15- to 44-year-olds and rose 2.8 percentage points for those aged over 45 during the same period.
Although the BBC reached 34.4 million listeners, fewer than commercial stations' listeners combined, its stations accounted for a greater share of radio listening at 51.4%, although this was down 0.5 percentage points from the first quarter of 2018.
The BBC's share among 15- to 44-year-olds declined by 1.2 percentage points and its share among people aged over 45 declined by 0.6 percentage points.
Global Radio's Heart remains the biggest commercial radio brand by reach, with an average of 9.7 million listeners each week, up 1.6% year on year. Bauer's Magic grew its audience by 9.1% year on year to 4.1 million listeners a week.
Siobhan Kenny, chief executive of Radiocentre, said: "We are constantly reminded of the challenges that radio faces in a digital age, whether it is from new forms of listening or shifts in advertising.
"But it's clear from these figures that the investment from stations in talent, brands and great content is helping radio to continue to resonate with audiences in a big way."