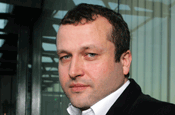 Green, who was appointed to the job last year, is currently on leave from the agency but plans to return to Naked within the next month in a different, as yet undefined, position.

Sources close to Naked indicated that Green's decision came as a surprise but that it would enable him to spend more time with his young family.

Naked's management team, led in the UK by the managing partners Will Collin and Ivan Pollard and the group chief executive Nigel Long, is said to be working on plans for a new UK structure.

They are yet to decide whether to recruit a new managing director or to split Green's responsibilities between the partners.

A year ago Naked, which was sold to the Australian marketing services group Photon in February, restructured its UK management team in a bid to grow the agency.