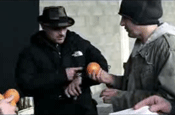 We won't spoil the denouement by describing what happens; instead, we'll supply the credits. It was written by Howard Green and art directed by Pablo Videla. Direction was by Chris Palmer through Gorgeous.
The spot is being released online today. The deadline for entries to the Showcase is 17 April. Directors with less than two years' commercials experience qualify for entry.
Saatchis' selection of new directors is made public at Cannes.