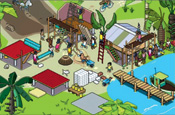 According to Tom Barratt, lifestyle marketing manager, the planned overhaul comes in response to the Marketing/Joshua survey of 'Brands We Love and Hate' (Marketing, 13 May). The charity topped the list of consumers' most-hated charitable organisations, with 10.2% of those surveyed citing it as their least favourite.
Christian Aid intends to first conduct consumer research and an analysis of its supporter database. The findings will form the basis of its future promotional activity.
Once it has developed a fresh identity, the charity, which has been working with branding agency Passion Brands, will appoint a marketing communications agency.
Christian Aid, which is also planning a five-year initiative to increase donations by 50%, is an international development charity that campaigns globally against poverty and social injustice.
In the financial year 2007-08, its income was £86.5m, nearly 75% of which was donated by members of the public in Britain and Ireland. More people than ever left legacies, amounting to £9.8m.
Christian Aid spent £14.4m on fundraising last year - 16% of its income.