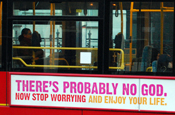 Ron Heather, from Southampton, said that he was "shocked" at the starkness of the ad, which is being run on 800 buses across Britain, and walked out of his shift last Saturday in protest.

Heather told BBC Radio Solent: "I was just about to board and there it was staring me in the face. My first reaction was shock horror.

"I felt that I could not drive that bus, I told my managers and they said they haven't got another one and I thought I better go home, so I did."

His employer, First Bus, said that it understood Heather's views on the subject, and would do everything they could to ensure that he does not have to drive the buses concerned.