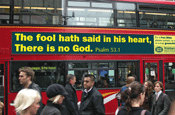 The ads, from The Christian Party, the Trinitarian Bible Society and the Russian Orthodox Church, will run across CBS Outdoor bus sides for two weeks.

Ads from the Trinitarian Bible Society will run on 100 bus sides and carry a line from Psalm 53.1: "The fool hath said in his heart, There is no God".

Last month, a campaign with the headline: "There is probably no God. Now stop worrying and enjoy your life" broke across London and other UK cities after The British Humanist Association raised £140,000 in donations to fund six weeks of activity.