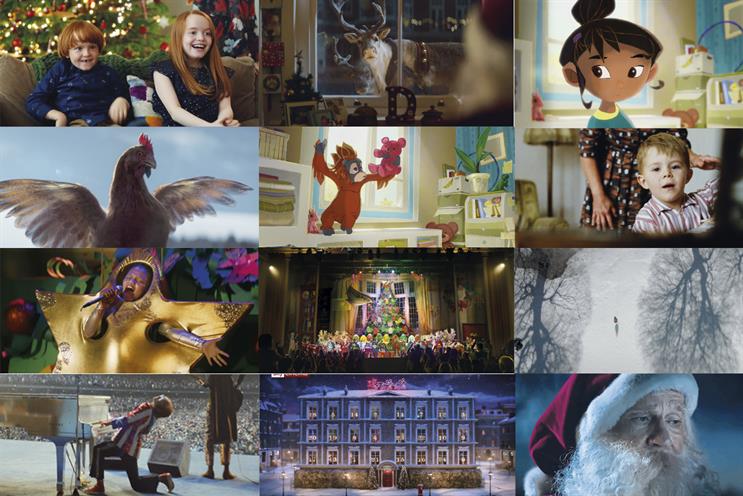 For the third instalment of our Christmas creative review, Campaign calls on some of you to take a look at: Iceland "Rang-tan" by Mother; John Lewis "The boy and the piano" by Adam & Eve/DDB; KFC "Crossroads" by Mother; McDonald's "#ReindeerReady" by Leo Burnett London; Sainsbury's "The big night" by Wieden & Kennedy London; and Sky Cinema "Christmas 2018" by Sky Creative Agency.
Sarah Douglas, chief client officer, Abbott Mead Vickers BBDO
So, in the spirit of peace on Earth and goodwill to all, let me start with the ones I love.
Iceland. Bravo. Take a beautifully executed piece of copy for a brand with far more sentiment than yours, file some adoption papers and get banned. This is precisely what brands should be doing with their size 11 feet. The viewing volumes soar, its customers will love the brand and it might actually effect real cultural change. I won't be shopping at Iceland for obvious reasons, but I am now officially against palm oil.
More love for KFC. Taking the fast out of fast food and focusing on the food. Despite the fact that my inner Phoebe Buffay is screeching "NO FOOD WITH A FACE!", this film delicately jives its way around my sensibilities and I can't help but love it. On yer bike, turkeys. No-one likes you anyway. You've got too much breast. I can say that because I am a girl and you are a turkey. It wouldn't work the other way round.
Taking the fast and the food out of fast food and leaving only the veg on the side is McDonald's. Who isn't a sucker for a doe-eyed malnourished reindeer? It's classic Christmas stuff . A sleigh-laden and seasonal way to demonstrate that a warm welcome awaits you at the golden arches, regardless of festive needs.
Sky gives me nothing but a headache that I can't watch TV without full make-up and a blowdry and tells me nothing my Sky movie menu doesn't already. An entertainment brand with no entertainment values whatsoever. Mystifying.
And so to Sainsbury's and John Lewis – high notes of previous festive seasons, slugging it out in mid-table respectability. JLP has a true enough strategy; I just wish it was executed more deftly than with such a high-ticket item, although I'm sure the ensuing stampede of pushy middle-class parents will love you for reminding them to emphasise music alongside sport, and a decade from now we can all enjoy the harmonious results of you spawning a nation of Eltons.
What's left to say about Sainsbury's that hasn't been said already in homes up and down the country in one big chorus of "snap"? I'm not sure that, with Asda doing the same at your heels right now, this was your year. We shall have to wait and see.
Jason Cascarina, deputy executive creative director, Proximity
There are two of me. There's the advertising creative who's always looking for a different approach, a "world's first…", an innovation and all that old wow. Then there's the punter me, who hates change of any kind, goes to the same resort every holiday and always orders the exact same dishes from the curry house.
So what do I respond to in Christmas ads? Advertising me defaults to loathing them for their formulaic lack of imagination. Sky's commercial is based on an advent calendar. Well, there's a leap. But then other me doesn't want Christmas buggered about with. I like advent calendars. And school concerts and traditional turkey dinners. I like the feeling that it's going to be a proper Christmas, just like always.
So go on, Sky, you have your calendar. And McDonald's, go with Santa and his reindeer. Although I'm not buying that no-one puts carrots out any more, because I certainly will. It's one of those things I do every Christmas. Like watching Love Actually, with its memorable school play scene. And here that is, courtesy of Sainsbury's. We'll forgive any unfortunate similarities to recent ads just for the plug costume.
KFC even brings the turkey. Well, sees him off. Nice way for a brand I wasn't expecting to hear from to make itself relevant. Not for actual Christmas lunch, mind. The cowardly turkey better be caught and basted by then; sod fried chicken on the big day.
Now what about Elton? In fairness, John Lewis managed to make itself part of Christmas traditions with the "reveals" of its new ad each year. Hard to think of another brand that's managed to do the same. Does either of me actually like this one? It made Mrs Wife cry and it's phenomenally well done. Especially the little "look up" Top of the Pops Elton gives to camera.
Merry wassailing me has never been a big fan of guilt trips during the festive season. But "Rang-tan" wants us all to consider others less fortunate. Deeply cynical agency me snorts with derision at the classic banned-ad strategy, with flocks of sheeple across my social channels encouraging everyone to share it "because outrage". Iceland must be laughing its thermal socks off.
All in all, then, I think this Christmas looks no different to any other. And, sadly, so do I.
Ryan Newey, founder and chief creative officer, Fold7
The Christmas ads are here and elbowing one another out of the way to get the best seat at our festively decorated dinner tables. John Lewis has held the seat for many years, and avid readers of Campaign will have already seen our thoughts on the ad, but I think we're ready for a new guest that perhaps might spark a more interesting conversation.
The first wise king tapping at the door with gold crispy chicken is KFC with a very cute spot that cleverly inserts itself in the holiday mix with a plucky attitude, reminding us that chickens rule the roost. It's fresh and fun and exists in its own space. I still have a theory that characterising the things we eat will lead to more vegetarians but, that aside, it's a joyful bit of entertainment.
Next at our door, with a bag of premium Brussels sprouts, is Sainsbury's. Although it's a scenario we have seen before, it's done beautifully and reminds us what this season is all about. In a world where everyone is looking to find a new way to do "the Christmas ad", this more traditional ad strangely cuts through. As John Lewis steps to the side, could this slip into the space it leaves? a season without someone filling the archetypal holiday ad would be a sad moment, but not as sad as the melted snowman we all like watching every year, oh no.
Hold on, McDonald's is making its way down the chimney with the gift of carrots for the reindeer. The spot is nice and the campaign has some brains behind it. "Dad, can we get free carrots for Rudolph?" I'm sure many a family will have a little bag of branded carrots rattling around their house this holiday season.
Sky is tapping at the window but, on this occasion, I'd leave it in the cold. It has nothing interesting to say in this spot. It's just a preview of its content. Hopefully, there'll be other work from the brand that reflects the fact that Britain will spend more time with it this Christmas than any other brands we discuss today.
So, who would've thunk it? At the head of the table, the Christmas cracker (although this could have aired any time) is offered to the brand that starts the most interesting conversation: Iceland. Actions speak louder than words, and so it is at this time of year – when we think about others, we're reminded to think what "others" really means.
The hoo-ha around this spot not making it to our TV screens leaves me feeling a bit sorry for Clearcast, which has been at the sharp end of the complaints, but not much. Maybe I'm cynical, but it was never going to make it to air and the "ban" has led to sharing without media. There's a gift for you, Iceland.
Now, pop your slippers on, pull up a chair and welcome to the Christmas dinner table. Would you like leg or breast? Or a KFC bucket?
Sam Wise, head of planning, Saatchi & Saatchi London
It's Christmas, advertising is covered in chocolate and eating itself, and it's not just retailers – everyone wants in. First on the menu, a couple of fast-food joints…
KFC: I like it for being cheeky and for poking fun at Christmas, which is ripe for a bit of ribbing. It's also a true insight that if turkey wasn't rubbish we'd eat it more than once a year. I suspect that, in among all the effortful meals, there's more than enough room for fast food. At this time of year, positioning KFC aggressively versus turkey is a good mnemonic – bold and true of the brand.
Onto McDonald's. Trying to make sure people don't forget about them around Christmas is, I assume, a yearly brief, so it's smart that it has built a repeatable angle. As a new father, last year's Reindeer Ready app powered one of my earliest dad jokes, and I'm pleased to see the festive campaign back with bells on. The execution itself pulls on some American tropes with a UK twist. It's true of the brand and should sit well in the Christmas programming.
Moving from fast food to frozen, unlike everyone else I'm not into the Iceland effort. Despite how well it's made, I don't find it that close to the Iceland brand. It feels like it is scoring an easy goal with orangutans versus taking on the harder task of why you should shop at Iceland this Christmas. Frozen food is a really important part of Christmas – maybe it could be an even bigger one. Anyway, clearly it has scored a big home run with the banning and all the subsequent sharing, but it is pulling the wrong strings for me at Christmas.
John Lewis – I wanted to not like it because, well, I'm envious of the campaign. But, for me, this is brilliant. Going all in on big Elton has somehow made the 10th iteration of these legendary ads feels fresher than ever. Executionally, it has lassoed a huge star and brought him down to live among us. The insight, too, is great; there is a selfish dream in anyone searching for a truly thoughtful gift for a child, that maybe in some small way your gift could have an impact on who they become. Like all the best ideas, it feels so obvious, I can't believe they hadn't been there before now.
As arresting as it is, Sainsbury's is impossible to not compare with the recent John Lewis ad. It feels like a better execution, but a less good idea. I found myself wondering why they didn't stick with something closer to the final line of the song, "You get what you give" – perhaps that would have just brought it even closer to John Lewis' thoughtful gifting approach. It's a beautiful, bold execution, but I found it more sweet than meaningful and more of a Christmas extravaganza than true of Sainsbury's.
Sky. Advent calendar: check; familiar family relationships: check; and a whole bunch of film products: check. The observations are drawn well enough, but you can't help picking up on the lack of confidence versus the simplicity of some of the other efforts. It's a tactical Band-Aid on a bigger strategic challenge for Sky around streaming services and, in that context, it's doing its job.
Dylan Williams, chief strategic officer, Droga5 London
Profit warnings, store signs, CGI, Ellie Goulding, piano prices, Lidl, Laurence vs Claire, Waitrose, Facebook "loves", #notaretailstore…
Contextual epistemologists argue that a viewpoint is as fleeting as the conditions in which it is formed. Yet, the maelstrom that encircles John Lewis at Christmas has not changed my opinion on its latest offering. I like it. As a parent, it reminds me that little moments can have lasting effects. And, while we can't all buy pianos, the allegory is universal. Just like Sir Elton's appeal.
Deforestation, #nopalmoilchristmas, censorship, Greenpeace, Change.org petition, Katie on the news, 30 million views, Clearcast abuse…
My position on the Iceland film did shift, however. My initial scepticism was misplaced. Paul Feyerabend argued that progress is restricted if a new theory has to be compatible with the rules set down by its predecessor. I was guilty here. My instincts took me to the effect on Iceland shopper behaviour. But with only 12 years to address climate change, we need companies to reframe success around aggregate impact. Mother's last recycled simian helped win Agency of the Decade. This one might help save the world.
Sky Cinema isn't so ambitious. An advent calendar reveals its range of on-demand Christmas movies. The porn parody flying round the dark socials might actually help.
When The Last Stand called out "Winners go Nando's, losers get Chicken Cottage", KFC was no longer part of the conversation. It is now. It drives the campaign. DMX, FCK, Hate Fries, now Sergio Leone. No Turkeys here. Brilliant.
Since Super Size Me, McDonald's transformation has been impressive. I applaud the bravery of making carrots the centrepiece during peak hangover season. I found this spot a little hammy. But a spin of #reindeerready reveals it enjoys panto appeal. Context again.
Sainsbury's. The School Play Wars of 2018 will soon be a case study on the relative merits of first and second mover advantage. Like a late challenge in football, once you've committed you may as well just go all in. Make as much impact as possible and head straight for the bath. Don't even look at the referee. There are more than enough giffable moments in this one to leave a lasting impression – the plug scene and the gravy boat alone. It might be late, but it's Mick Harford late. I like it a lot.
Happy Christmas.