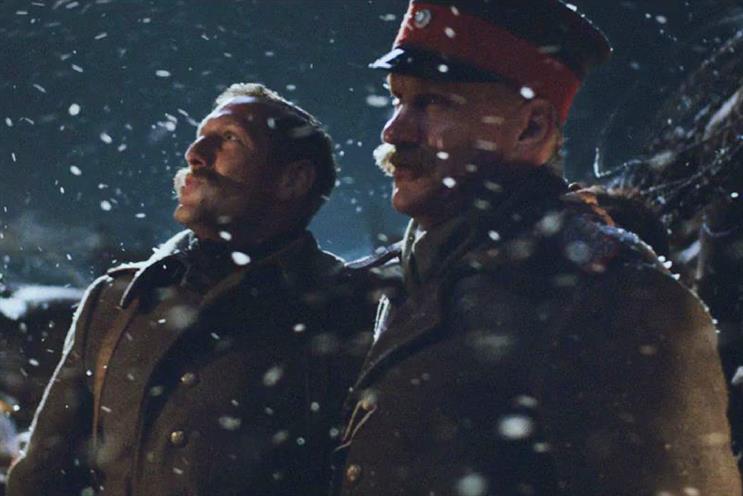 To tell us your favourite ad scroll down and take part in our poll...
John Lewis "Monty the Penguin" by Adam & Eve/DDB
Securing 16.3 million online views in just four days of its release, the spot features a young boy waiting for Christmas to give his penguin friend the companion it has longed for.
Adam & Eve/DDB created the spot with executive creative directors Ben Priest, Emer Stamp and Ben Tollett. Daniel Fisher wrote the ad, with art direction by Richard Brim. It was directed by Dougal Wilson through Blink.
Asda "smile" by VCCP
The supermarket's uplifting campaign centers on things that make people smile over the festivities, such as opening presents on Christmas morning, the size of the tree and a dad getting stuck into a special dessert.
The spot was created by VCCP. Mark Orbine was the executive creative director; Janetta Lewin, the creative director; and the creatives were Jade Sturman and Sophie Townsend. Georgi Banks directed the ad through VCCP Kin.
Marks & Spencer "follow the fairies" by Rainey Kelly Campbell Roalfe/Y&R
Adding a Christmas sparkle to the line-up of ads this year, the Marks & Spencer film shows two fairies sprinkling magic to make people's wishes come true.
It starts off by the fairies clocking in for work and then flying around a winter's night to improving gifts, making it snow and finding a lost cat.
The festive ad was created by Rainey Kelly Campbell Roalfe/Y&R, with art direction from Chris Hodgkiss and copywriting by Pip Bishop. Philippe Andre directed the ad through Independent.
Tesco "lights up" by Wieden & Kennedy London
This year's Christmas ad from Tesco features a major festive light show created by the people behind the London 2012 Olympic Games opening ceremony.
The spot shows people getting out their Christmas decorations, and builds up to the light show on the side of a store in Wigan.
It was created by Wieden & Kennedy London. The creative directors were Dan Norris and Ray Shaughnessy. Guy Manwaring directed the spot through Sonny Productions.
Boots "#SpecialBecause" by Mother
The Boots campaign pulls at the heartstrings showing a family waking up in the early hours of Boxing Day so that they can celebrate it with their mum, a nurse who comes back from her shift.
The spot, called "#SpecialBecause", was created by Mother. It was directed by Noam Murro through Biscuit Filmworks.
Waitrose "the gingerbread stall" by Bartle Bogle Hegarty London
Waitrose has taken a low-key approach to its festive campaign to tell consumers that its employees "care a little more" because they own part of the company.
It tells the tale of a schoolgirl who receives a helping hand from a Waitrose employee when she struggles to make gingerbread biscuits for her school fete.
The ad was made by Bartle Bogle Hegarty London. Fred Rodwell and Andy Parsons created the work, which was directed by Tom Tagholm through Park Pictures.
Mulberry "#WinChristmas" by Adam & Eve/DDB
The fashion label took a comedic approach to its festive offering. The spot by Adam & Eve/DDB shows a family competing to give a woman the best gift, featuring presents such as a puppy that waves and a unicorn and then culminating with a Mulberry handbag.
Executive creative directors Ben Priest, Emer Stamp and Ben Tollett developed "#WinChristmas" with Miles Carter as the copywriter and Sophie Knox as the art director. It was directed by Andy McLeod through Rattling Stick.
Debenhams "found it" by JWT London
The retailer has focused its campaign on gift giving. The ad features children in a deserted Debenhams stores rummaging through its products, and then shows a girl hit the jackpot when she find the teddy bear she has been looking for.
JWT London created the spot. Russell Ramsey was the executive creative director; Ronnie Vlcek and Simon Sworn, the art directors; and Kat Thomas and Alex Ball, the copywriters. It was directed by David Edwards through Rattling Stick.
Argos "Advent" by CHI & Partners
The high street retailer has used a giant advent calendar to showcase the array of gifts it sells. It is part of it's "get set go Argos" campaign by CHI & Partners.
The one-minute spot was made by Jonathan Burley, the executive creative director, Jim Bolton, the creative director, and Alexei Berwitz and Rob Webster, the creatives. Geremy and Georgie directed the spot through Friend London.
Aldi "everyone's coming to us this Christmas" by McCann Manchester
Jools Holland features in this year's ad for the budget supermarket. It presents different families and groups sitting down to Christmas dinner in their own way before showing Holland and his band wishing everyone a merry Christmas.
The agency behind the ad is McCann Manchester. Art direction was by Mick Craven, while Gary Delaporte wrote the spot. Dave Price was the executive creative director. It was directed by Lucy Blakstad through Another.
Lidl "the little present" by TBWA\London
Residents in Hertfordshire are treated to a free Christmas dinner and are asked to guess where the food is from. They are pleasantly surprised when they find out it is all from Lidl, not Marks & Spencer or Waitrose, as they assumed.
Tom Gong took control of copywriting, and Dan Kenny oversaw art direction. Finn McGough directed the spot through Rogue.
Vodafone "local heroes" by Rainey Kelly Campbell Roalfe/Y&R
Described as its biggest Christmas campaign, Vodafone celebrates "local heroes" such as hospital staff, chefs, farmers and its employees in its ad.
Even though they have to work over the festive period, the local heroes are upbeat, singing along to Let it Go' from 'Frozen, the Disney film, while watching it on their mobile device.
Rainey Kelly Campbell Roalfe/Y&R developed the spot. Mick Mahoney is the executive creative director on the campaign. Richard Barrett was the art director, and James Manning wrote the ad. Pete Riski directed the ad through Rattling Stick.
Littlewoods "Aladdin" by St Luke's
The online retailer chose to take on a pantomime theme featuring its brand ambassador Myleene Klass as the genie from Aladdin.
She grants wishes for family members by transforming old items into the latest brands available at Littlewoods.com.
The work was created by St Luke's. Julian Vizard was the creative, while Michael Gracey directed the ad through Partizan.
Burberry "from London with love" by Burberry
Romeo Beckham stars in the fashion house's first global Christmas campaign featuring 50 dancers performing in front of a theatrical London street backdrop.
The film follows Beckham bringing a couple together with Burberry gifts.
It was directed by Christopher Bailey, the chief creative and executive officer at Burberry.
Sainsbury's "Christmas is for sharing" by Abbot Mead Vickers BBDO
This heartwarming film references the football match played by British and German soldiers on No Man's Land on Christmas day in 1914.
The three-minute spot follows a British soldier who connects with a German soldier who slips a bar of chocolate into his pocket. It was directed by Ringan Ledwidge through Rattling Stick.
The campaign was made in partnership with the Royal British Legion, marking its 20-year relationship with Sainsbury's. The supermarket will sell bars of chocolate to raise money for the charity.