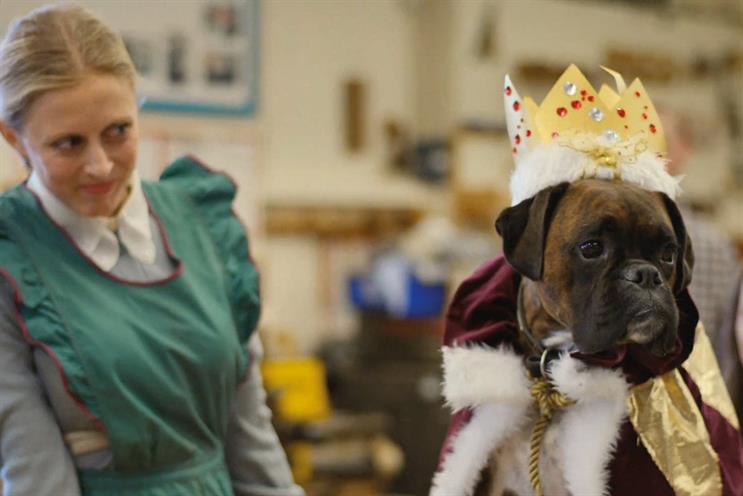 It's good to be back on the inimitable pages of Campaign after a little time away in the real world – a time when I've seen content as most people do: without the brief, background, objectives, the channel strategy or creative write-ups and not as a professional practitioner. It has been interesting to view our industry's output through a slightly different lens, particularly during the most significant Christmas retail battle in years.
Shifting tectonic plates of global economic uncertainty. Rising household debt. Food deflation. Technological innovation. Flat total like-for-like sales growth of 0.1 per cent in December. The march of newish entrants. All present challenges for British retail's finest, including market-share defence, sustaining quality and service, online innovation and reducing prices yet defending margin.
And as if the retail landscape wasn't interesting enough, Christmas trading comes with heightened customer expectations and magnified City interest.
A parsnip outage at your local store or an unsatisfactory substitute in your online delivery on Christmas Eve can turn the most reasonable shoppers into frenzied maniacs and have a disproportionate impact on new year goodwill. Poor sales can be pounced on by the City as evidence that "the turn-around" isn't working.
Heightened expectations also extend to marketing communications – given that shopping is Britain's favourite sport, Christmas has become a very British Super Bowl.
The debate about the role of Christmas retail advertising is an old one and the truth is that, for the customer, a retailer is only as good as their last shop, last season's range, last click-and-collect or last chat with the checkout lady. No omnichannel communications campaign can mitigate poor fundamentals. As David Potts, Morrisons' chief executive, says: "You don't sit at home on 25 December eating the Christmas ad."
However, advertising across channels at such a key time of year can serve numerous business and brand objectives. Generating affinity and emotional commitment in order to strengthen behavioural commitment, trade-driving, reminders of key initiatives, reassurance on quality and price, defending share of mind and employee engagement… not a vanity exercise but a commercial fundamental.
So, from my perspective, what did Christmas 2015 demonstrate?
First, the UK retail fightback has begun. Whether it's price cuts from the "big four" against the discounters or general merchandisers such as House of Fraser and Debenhams revamping operations to rival Amazon and online fashion businesses, many UK retailers surprised the City with better-than-expected sales. Customers have noticed changes being made.
The discounters aren't going away – but things are getting more interesting. The market-share land-grab in grocery retail continues as both Aldi and Lidl open new stores but, as they aim to strengthen quality perceptions, attract new shoppers and increase average basket, there are indications that Aldi is growing at the same rate as its store openings, suggesting flat like-for-like sales.
Online is playing a greater role in how we shop and how we buy. It's an obvious point, but online and mobile are being credited in most of the success stories of the season. Even on Christmas Day, according to Experian, Brits spent £728 million online.
As analysts have found, customer behaviour can be hard to predict. Often, they like what they know and know what they like – and Christmas isn't a time for experimentation on a grand scale. The seasonal flight to trusted quality is seen in the performance of many UK retailers.
Distinction, distinction, distinction. When it comes to communications, there's a reason why "Mog's Christmas Calamity" and "man on the moon" are recalled, well-liked, sought out online and talked about. Not only are they beautifully crafted, engaging pieces of work that create distinction, in "doing one thing well" they liberate communications in other sales-driving channels to work hard. They are from brands (and agencies) that know themselves: that confidence is infectious.
So let's start on the moon.
The results
John Lewis' excellent business performance of 5.1 per cent like-for-like growth over the festive period saw strong online delivery (21 per cent rise) offset store decline (down 1.2 per cent) following years of investment in information and distribution systems. Years of emotional and financial investment in advertising have also delivered an exemplary on-screen product. "Man on the moon" created distinctiveness without falling into the typical tropes of Christmas, underpinned by a compelling partnership with Age UK.
Avoiding the festive clichés is what "Mog's Christmas Calamity" does too. A campaign imbued with Sainsbury's quality and quintessential British values of home, community and conviviality. Engaging, entertaining and supporting child literacy, this inevitably will have pulled some Sainsbury's shoppers back from the car parks of Aldi. Mike Coupe, Sainsbury's chief executive, credited the campaign for its role in a better-than-predicted like-for-like decline of 0.4 per cent over the quarter, as well as a strong increase in volumes and market share in the run-up to Christmas.
The biggest business surprise of all came from Tesco as the strategy from Dave Lewis, its chief executive, seems to be working – UK like-for-like sales in the festive period grew 1.3 per cent against analyst expectations of a 2.3 per cent decline. It seems that shoppers responded to price reductions across the board, in particular the "festive five" promotion. The "every little helps" campaign will have inevitably played a role by driving awareness of initiatives and categories such as party food and gluten-free products (up 28 per cent). The slightly anachronistic Dotty homage seems to lack the performances, scripts and likeability of its predecessor. It may have made adland's cognoscenti choke on their mince pies but I'll wager tracking reveals a resurgence in customer understanding of Tesco's key stories.
If my local store is anything to go by, under the new leadership of David Potts, things are afoot at the hidden jewel of British retail, Morrisons. A 0.2 per cent like-for-like increase over the festive period (against expectations of a 3 per cent drop) indicates that the less promotional focus and improved pricing are working. Post-Ant & Dec and with the agency on notice, with a nice thought of "handmade right here" dressed in a safe staff campaign, "make it magical" probably reminded discount defectors why they should get back to Morrisons. No less importantly, it will have given embattled staff a sense of pride and purpose.
House of Fraser was the biggest Christmas advertising surprise for me. The Gap-meets-Under Armour "your Christmas, your rules" jumped out of the screen with its stylised choreography and earworm track. This was general merchandise and fashion advertising done very well. Punchy creative and a 5.3 per cent like-for-like increase in festive sales were founded on strong online growth, a good Black Friday and improvement in margin. A surprise to the analysts and I suspect a surprising shift in customer perceptions of the brand.
Previously considered something of a "basket case" by analysts, Debenhams also delivered a hearty 1.9 per cent like-for-like growth over the Christmas period as it performed well in beauty, relied less on heavy winter clothing and strengthened its online operation. Meanwhile, it reduced discounting to protect margin and credited "imaginative and joined-up marketing" focused on gifting for its success. A strong result when compared with Marks & Spencer, whose general merchandising registered a like-for-like decline of 5.8 per cent over the quarter.
Asda, on the front line of the battle with Aldi and Lidl, announces its results in February and is likely to bear the brunt of declining sales and share. While its chief executive, Andy Clarke, announced a further £500 million in price cuts, Asda's upbeat Christmas campaign seemed to lack the position, differentiation and insight of previous years. It fell into the land of Christmas cliché alongside Boots and M&S (previous masters of the Christmas spectacular).
Aldi, which had the perfect opportunity to take a different approach to Christmas, also fell into Christmas cliché land (accompanied by a John Lewis spoof) as it looked to strengthen mainstream acceptance and build on total sales growth of 20.6 per cent in the final quarter of 2015. But the indications are that Aldi may need a different approach to address apparently flat like-for-like sales.
Meanwhile, Lidl certainly did Christmas differently with the charming, empathetic and populist "School of Christmas", which I suspect played a role in driving greater affinity and sales. Lidl had strong Christmas trading, reporting in the Financial Times that like-for-like sales rose 18.4 per cent over the period. Sehr Gut.
M&S food performed well, with like-for-like sales growth of 0.4 per cent over the quarter and 17 per cent growth in the final week. Waitrose also saw a record last-minute surge but it was seemingly too late to prevent a like-for-like decline of 1.4 per cent over the festive period. While not at the heart of the discounter battle, Waitrose's greater promotional activity hit margins. In advertising, it stuck to familiar reassurance of food provenance and quality message. Trying to maintain shopper numbers across the whole festive period will be one marketing challenge this year.
As I write this, commercial teams, strategists, researchers, analysts and econometricians will be poring over sales, regional data, tracking, customer panel figures, fulfilment stats and average basket data to get to a full understanding of business performance and ROI.
To "do Christmas differently" is one of the most challenging briefs agency teams can work on. I would say there are plenty of indications that the work of adland will have contributed, in no small part, to some of the better Christmas stories.
Meanwhile, for the retailers showing signs of recovery, the mantra will be: "Positive like-for-likes are for life, not just for Christmas." Consistency in 2016 will be key.
Russ Lidstone is the former chief executive of Havas Worldwide London