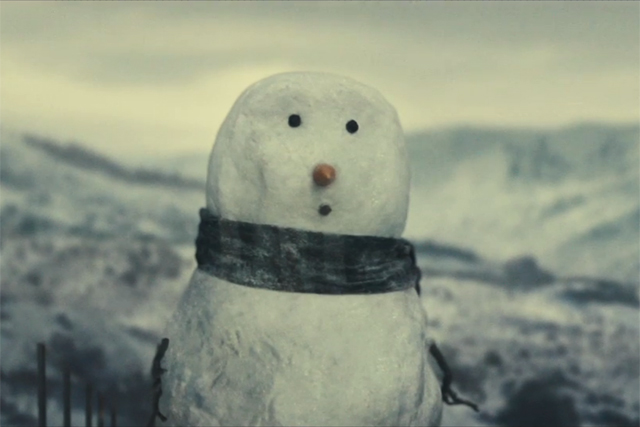 Who can afford to be generous this Christmas? As if anyone needed a reminder of tough economic conditions, a recent survey by Citizens Advice confirmed that grim conversations are being held across many of the UK's kitchen tables, with more than 6m children having parents who are worried about whether they can pay their next fuel bill. This is hardly surprising when the big six energy suppliers are hiking their tariffs - EDF Energy, for example, will put up the price of gas and electricity by 10.8% on 7 December.
With that in mind, a look at this season's festive ads offers a glimpse of how brands are attempting to seem 'in touch' with consumers. These creative efforts could, then, be viewed as a barometer of the marketing industry's outlook on consumer optimism. Celebrities are thin on the ground in these ads, unlike the twin pillars of austerity and stressed-out mums, which feature alongside feel-good, pick-me-up themes.
Here we identify six of the key trends from the major Christmas ads and how they reflect the mood of the nation.

Click here to skip to ads
1 Advertise, don't patronise
In the Citizens Advice survey, one in two parents says they are spending less this Christmas than in 2011. In an effort to empathise with their customers, retailers have eschewed ads fronted by big-name celebs; there's no Twiggy (M&S) or Andrew Flintoff (Morrisons).
'Big names look glitzy and expensive. Now, retailers want to appear down-to-earth and onside with the consumer,' says Angus Maciver, chief executive of retail sales consultancy McCurrach, and former marketing director at Morrisons.
However, as Maciver points out, in low-interest categories with broad demographics, celebrity-led ads do cut through. Without star-fronted ads, the December retail war will be fought on different terms.
2 Glam up and put on a brave face
Debenhams is one retailer bucking the 'gloomy' trend, with its profits and like-for-like sales up over the past 12 months, which explains marketing director Richard Cristofoli's optimistic outlook.
'At the end of a year filled with celebrations such as the Jubilee and Olympics, people are looking for an upbeat, celebratory Christmas - a licence to enjoy it, however they choose,' he argues. For Debenhams, this means showcasing its designer fashion offering.
Marks & Spencer takes a similar tack. However, its advertising is more inclusive - a series of vignettes allows the brand to empathise with various demographic groups, from sexy singletons to yummy mummies.
3 We're here for you, everyone
The Co-operative's fresh strapline 'Here for you for life' is about as inclusive as it gets - where the 'you' is everyone from single blokes to granddads, mums to party girls. It is a strategy designed to exploit the widespread appeal of Christmas, a festival we can all enjoy.
4 Mum is the heroine
An alternative approach, particularly for food retailers, is to make a star of mum, the main shopper for Christmas. Asda and Morrisons both latch on to one of the widely accepted cliches of Christmas: mum does everything.
In different ways, these retailers are attempting to undercut the potential sexism of gender stereotyping, through methods such as humour. While both share a single-minded focus on the key demographic, Asda has attracted criticism for its portrayal of the woman in the home. Morrisons is much more tongue-in-cheek. Mum tells her story in the first person using a resigned tone, while the ad is decked with some truly surreal visual touches.
5 Emotion, emotion, emotion
Tesco and John Lewis acknowledge consumers are counting the pennies. Their logical conclusion: in 2012, it's about how apt your gift is, not how much you spend. The difficult question is: how do you connect with people who are not looking forward to the expense of Christmas without turning into Scrooge?
Both brands use emotion. Tesco's marketers proclaim 'Christmas is a feeling, not a season'. Its ad shows a mum doing a trolley dash through the store to find that perfect present - in this case, a Furby. Its charm is perhaps undermined by the ghostly aisles and feverish approach to shopping.
John Lewis, after the success of 2011 - the impatient boy desperate to give his parents their present - again goes for the emotional jugular. Its strapline 'Give a little more love this Christmas' puts thoughtfulness and effort ahead of flashing cash. It demonstrates that some advertisers have such supreme confidence in their brand, their ads don't have to act as a shop window.
6 Community matters more than fancy ads
Waitrose takes the prevailing financial concern in a radical direction. Its ad tells us that the budget earmarked for producing 'fancy' advertising will be ploughed into the brand's charitable Community Matters programme. The communications cleverly use the brand's existing assets to set the retailer apart from the gaudy baubles of Christmas cliche-land.
While some have questioned whether the ad, which is backed by the same media spend as last year, is a gimmick, no one denies the £1m of extra charitable donations it will free up is spot-on when it comes to reflecting the mood of most consumers.
MARKETING PRESENTS THIS SEASON'S FESTIVE TV ADS
ASDA
Behind every great Christmas is mum; and behind every great mum is Asda. Unfortunately, while Asda's target market might be 'heroic' mums, more than 160 complaints, including from Fathers4Justice, have been received by the ASA, claiming that the ad reinforces sexist stereotypes.
BOOTS
Rather than have consumers splurge on any old thing, the chain suggests 'let's give gifts that keep on giving'. In its warm vignettes of couples, friends and families, it attempts to show it has a range of products to suit any purse and person. It's a cute move to say gifts are not just about Christmas day.
THE CO-OPERATIVE
Directed by Peter Cattaneo (The Full Monty) and voiced by Katherine Kelly ('Becky' from Coronation Street), this ad is desperately down-to-earth. Its message of being on the side of the consumer is straightforward; but overall, the effect is downbeat, flashes of humour in the rhyming script aside.
DEBENHAMS
This is an ad of cinematic ambition. It follows a young woman in a red coat (shades of Schindler's List) through idealised, glamorous cityscapes and countryside to the ultimate 'chocolate box' Christmas cottage. 'Christmas Made Fabulous' is the unapologetic appeal to fashion-conscious shoppers.
JOHN LEWIS
Singer Gabrielle Aplin delivers Frankie Goes to Hollywood's The Power Of Love with a haunting pathos. It acts as the backing to a story of a snowman scouring the country for a Christmas gift for his 'snowwoman'. John Lewis says 'Give a little more love this Christmas'. With this ad, it already has.
M&S
Is the reason for ditching celebs this year because they make ads look expensive to struggling families? Maybe. M&S replaces models with 'Greatest Hits' - energetic dance routines to familiar music in sometimes unfamiliar renditions, with people from a range of demographic groups featuring.
MORRISONS
Morrisons is 'for your Christmas' - if your Christmas entails a woman doing all the work, that is. Surreal images from the ad include a giant turkey in a wrestling ring. However, the somewhat depressing tone has left many people accusing Morrisons of sapping the spirit from Christmas.
TESCO
This commercial avoids Christmas cliches, but the story of a lone woman shopper hunting down the perfect gift doesn't carry enough humour and pathos for it to stick in the mind. The supermarket chain has said that Christmas is a feeling, not a season: well, we need more feeling, then.
WAITROSE
The bravest of the bunch. Waitrose chefs Delia and Heston in an empty studio claim the money saved by eschewing a flash ad means it can give more money to charity. Critics have disputed the sums, but perhaps a bigger concern is whether people will start to feel preached at over the next six weeks.
SAINSBURY'S
Gone are the days of the glitzy Jamie Oliver-fronted spectacular. Instead we are treated to 14 vignettes of cutesy festive moments that 'make' Christmas. Aaron Espe's folk track is the consistent thread tying the homely campaign together with a spot of a boy clearing plates for his mum an effective way of warding off claims of sexism.