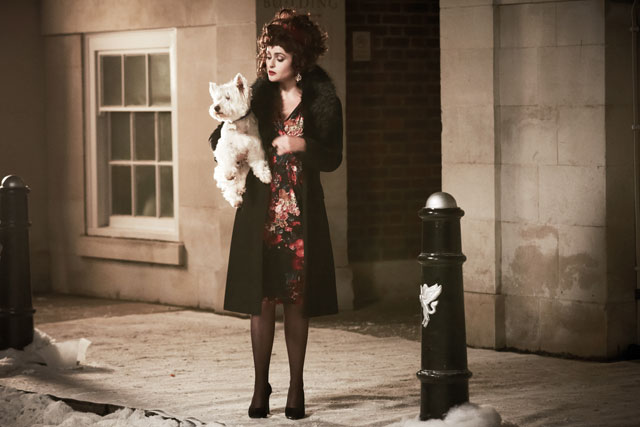 The public would have been forgiven for thinking Scrooge had infiltrated the nation's marketing departments given the sheer misery of last year's Christmas advertising.
Morrisons featured a mum on a the verge of a breakdown, Asda riled the country's feminists by showing a feckless husband letting his wife organise the entirety of Christmas, and Waitrose made Delia and Heston deliver an austere message in an abandoned studio.
This year is likely to be a more "sumptuous" affair believes Ian Pearman, the chief executive of Sainsbury's ad agency Abbott Mead Vickers BBDO.
"Value messages will continue to be as important as they were throughout the credit crunch, but whilst the messaging will stay realistic their creative wrapping will be more idealistic," says Pearman.
Budget retailer Lidl is proving to be the pace-setter with an aspirational Christmas ad promoting its £7.99 reindeer stakes and £5.99 whole cooked lobsters.
Bigger and bolder
Advertising is also set to be bigger and bolder with rumours circulating that lots of two- to three-minute ad slots have been booked by media agencies
Pearman speculates "Christmas to UK advertising is becoming what the Super Bowl is to the US advertising market".
Patrick Bousquet-Chavanne, the executive director of marketing and business development at Marks & Spencer, is well versed in Super Bowl advertising from his years as an Estee Lauder executive in New York and believes the Super Bowl comparison to be a "perfect" analogy.
Marks & Spencer has returned to the heyday of its Christmas advertising with a seasonal campaign that revives its "Magic & Sparkle" strapline and stars Helena Bonham-Carter, Rosie Huntington-Whiteley and David Gandy.
The two-minute long spot has an exclusive feel to it that echoes the enigmatic storyline of a perfume ad and is a departure from last year's down-to-earth Christmas ad, which featured members of the public including a boy with Down Syndrome.
"Our ad and some of our high street colleagues' ads play a critical role in that build up. I think we are very privileged to shape the mood and tone of the nation at this very important time," said Bousquet-Chavanne.
The more upbeat nature of the M&S ad is reflective of the improving economy, but considering Christmas ads are planned by retailers a whole year in advance Bousquet-Chavanne points out a certain amount of "gazing at the tealeaves" is required to get the tone of the advert right.
Richard Cristofoli, the marketing director at Debenhams, said viewers should expect an upbeat ad from the retailer even though a lot of the public are facing tough times.
"Whilst our customers are telling us they aren't feeling significantly better off at the moment - with costs continuing to outstrip wage inflation - they do want to be given a license to celebrate Christmas in a fabulous way," said Cristofoli.
The extent to which some families up and down the country are still struggling to make ends meet is not to be underestimated by the London-biased ad industry.
"Money is so tight for a lot of households – we know there are families where parents are not really feeding themselves properly in order to feed their kids properly," said Tom Knox, joint chief executive at Morrisons's agency DLKW Lowe.
Beyond the looming battleground the supermarkets will have over price the highlight of the "British Super Bowl" is still likely to be the John Lewis ad.
It is understood the TV ad will still be based around the theme of thoughtful gifting with the supporting campaign being more multi-channel than ever.
John Lewis last year made forays into creating a truly multi-channel Christmas campaign through a social media campaign, an experiential tour of Britain by the ad's Snowman character, and a children's book starring the Snowman.
Huge scrutiny
Although there is huge scrutiny on the TV campaigns a vast amount of spend goes on other channels, ranging from window displays to merchandising.
Mobile and its ever-growing importance to marketing means it will play a key role this Christmas with Pearman arguing the best brands will be thinking about capitalising on the growth of second screen usage.
"Never has it been easier to turn consideration into conversion within the same ad break," says Pearman. "This will be especially important this year as we're likely to see the highest level of online purchasing ever."
Cristofoli believes the advent of mobile devices, particularly the tablet, has reinvigorated the relevance of TV as a medium as customers "shop while they watch".
Britta Anderson, who works on the Tesco account as head of Ansibile Mobile, indicates this Christmas is likely to see an incredible amount of innovation around mobile as retailers fiercely fight it out over the key trading period.
"We are running a trial with a client this Christmas whereby we actually see they have visited a store or identified that they might be interested in particular Xmas gifts and then remessage them when they are at home where they have a bit more time to browse on a tablet or desktop computer," says Anderson.
Anderson admits the remessaging technology is still in the testing stages and will not be truly ready until the second quarter of 2014.
Also, Anderson warns marketers have to be careful they do not come across as "big brother-esque" by striking the right balance of messaging, providing opt outs and "essentially give consumers choice" of how much information is tracked.
Mobile will be "very important" for Tesco this Christmas said Anderson as it seeks to build on the mobile activity around the "Love Every Mouthful" campaign earlier this year.
With Christmas marketing you are very aware of the scrutiny - these campaigns are a bellwether of a retail client's health and confidence
Activity included in-store QR codes, sponsored tweets around the TV ads and geo-fencing out of home placements with "mobile display" ads.
Mobile's rise in importance in converting consideration into conversion will play an undeniably vital role, but it is the TV ads from the likes of John Lewis and Marks & Spencer that will grab people's headspace.
But as the status of Christmas advertising grows ever more important every year, so the pressure grows.
James Murphy, the chief executive of John Lewis' ad agency Adam&EveDDB, is well aware of the pressures being piled on marketers during the make or break Christmas period.
"With Christmas marketing you are always very aware of the scrutiny because these campaigns are seen as a bellwether of a retail client's health and confidence," says Murphy.
And does more success breed more pressure?
"You definitely get a sense of the expectation," admits Murphy.