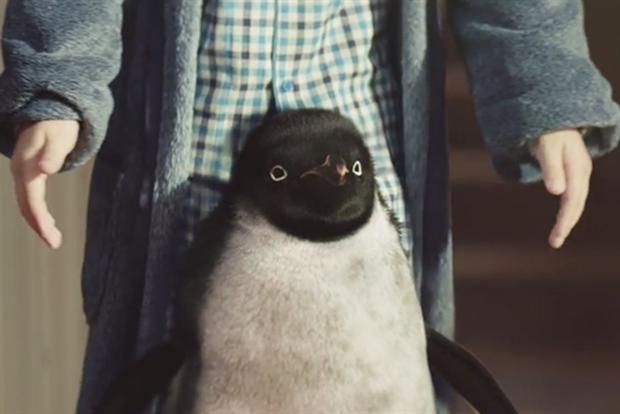 In this key time of year, the race for Christmas ad supremacy is obviously of utmost importance. Nobody wants to be responsible for this year's Christmas turkey. But while it's great to hear what creative people say about the ads, surely it's the consumers we really care about.
That's why we have asked experts from Dentsu Aegis Network (Carat's head of social media insight Andrew Fairclough and iProspect's head of earned media Ed Hartigan) to find out what the populace thought were the Christmas crackers, the unwanted uncles and the undercooked sprouts.
Methodology:
Social buzz was measured in the UK over the week immediately following each advert's release date. Social buzz includes blogs, forums, tweets, and news articles and sentiment is measured across all of these. Reach and Hashtags are measured across Twitter only.
House of Fraser
Let's start with a warning to marketers. People don't want their Christmas ads stuffed with drop dead gorgeous models. This ad received 62% negative sentiment – by far the highest negative score of any of the crop this year, and all because people couldn't connect with the ads 'angular' stars. The strategy of breaking the Christmas tradition (and this is the brand on this list that maybe COULD get away with eschewing the traditional staples) is evident, and could even be applauded for its bravery if it hadn't only managed 152 mentions (very low) and only 1% positive sentiment (speaks for itself).
On the plus side the people who did like it said that they enjoyed it because they thought it seemed authentic and modern.
Buzz: 152 mentions
Sentiment: 1% Positive / 37% Neutral / 62% Negative
Reach: 422,488
Hashtag use: 66
Morrison's
This ad is living proof that you have to get your brand ambassador right. Aldi found this at its peril with people posting a lot of negative comments about Jools Hollands' short cameo. However, it would seem that the Twitter-verse just cannot get enough of PJ&Duncan (AKA Ant and Dec). With 31% positive mentions, it is up there as one of the most liked ads this year, all largely due to people discussing just how much they like the cheeky chappies. There was 2.8m reach and this was largely due to high authority Twitter accounts discussing the ad eg. Marketing and Daily Express.
Buzz: 284 mentions
Sentiment: 31% Positive / 60% Neutral / 9% Negative
Reach: 2.8m
Hashtag use: 53
Lidl
While the Lidl ad didn't do too badly in mentions, only 1% of reaction to the ad was positive. However, in this instance Lidl could be seen as being a little unlucky because a large percentage of the negative comment came down to the shop being embroiled in a race row at the time. People then used the ad and the hashtag #lidlsurprises to make sarcastic comments about the company. If there was a slight brightside it's that the concept of the ad hit home with quite a lot of viewers. Most of the positive comment came from people describing Lidl products as being "surprisingly good".
Buzz: 311 mentions
Sentiment: 1% Positive / 84% Neutral / 15% Negative
Reach: 1.1m
Hashtag use: 266
Boots
The dark-horse tear jerker of 2014 can actually act as a warning to ensure that you not only run social listening on your campaigns, but also ensure you use the data properly and take context into account.
With 46% negative sentiment it's natural to hear alarm bells (not sleigh bells) going off, but looking more closely shows that almost all of the negative comments were actually people saying things like "The Boots ad made me cry". Considering this was the message the ad intended, all of this negative sentiment should actually be counted as positive. People felt a really strong connection with the nurse and many said they would do the same surprise Christmas for family members.
#SpecialBecause was mentioned a total of 317 times over the week and reached peak popularity on the 13th November when Boots tweeted a YouTube link to the video and asked fans who is special to them.
Buzz: 655 mentions
Sentiment: 26% Positive / 28% Neutral / 46% Negative
Reach: 707,536
Hashtag use: 317
Waitrose
The choice of music for a Christmas ad is often quickly overlooked, but John Lewis has proved time and again that a good song can really be the sherry in the trifle. And Waitrose really benefitted from choosing a cover of Dolly Parton's "Try", getting customers to sing it and donating the proceeds to charity. This not only drove mentions up the top 800s but also drove positive sentiment up to 43%.
Also, as the ad was released a day later than John Lewis it garnered a number of favourable mentions to its sibling. One lesson that could be learned though is that they failed to integrate their hashtag #BakeitBetter into the TV work and only promoted it 8 days later. Because the noise around the ad had calmed down by then, Waitrose missed the chance to rally build engagement.
Buzz: 861 mentions
Sentiment: 43% Positive / 43% Neutral / 14% Negative
Reach: 1.7m
Hashtag use: 1 (There are 145 mentions overall since the video was launched but Waitrose didn't start using the hashtag until 8 days after)
Aldi
Compared to the other retailers Aldi seemed to make a couple of key mistakes, which really hampered their ads' effectiveness. Unlike Morrison's (who scored a big win with their use of Ant & Dec) Aldi's inclusion of Jools Holland actually drove adverse reaction with the #joolsholland Hashtag getting 34% negative sentiment with many people taking to forums to continue lambasting the choice of brand ambassador. Another learning Aldi can take is to invest more in campaign-related social media to boost its presence after launch. While the commercial garnered just 100 mentions less than M&S's effort, its reach was just 504,037 compared to M&S's 3.7 million.
Buzz: 403 mentions
Sentiment: 18% Positive / 51% Neutral / 31% Negative
Reach: 504,037
Hashtag use: 27
Tesco
While the fantastic Tesco light show (which got rave reviews in the national newspapers) lit up the night skies of Wigan, the buzz failed to set the social-sphere alight when compared to Sainsbury's and John Lewis. However, in terms of sentiment it was a spectacular success. 53% of posts expressed positive sentiment and the words 'spectacular' and 'light' appeared in 25% and 21% of positive posts respectively. The ad also benefited from Tesco's decision to let viewers click from the ad to watch the entire light. This drove an extra 630,000 views on YouTube.
Buzz: 833 mentions
Sentiment: 53% Positive / 37% Neutral / 10% Negative
Reach: 2.2m
Hashtag use: 355
John Lewis
Monty the Penguin was riding (or sliding) high in the public's hearts until the Sainsbury's soldiers took to No Man's Land and started kicking a ball and sharing chocolate. While still a hugely successful ad with 14,000+ mentions, it was way behind Sainsbury's (and its own high watermark of Christmases past). The ad was smartly launched during Gogglebox, a very high interaction show, which really helped push the social messaging that day. The #montythepenguin hashtag was by far the most popular with 6,676 mentions, compared to the second most popular #johnlewis at 890 mentions. While the cult status of the John Lewis Christmas ads became quickly apparent with the number of spoofs (764) being made, it has still fallen short of previous years. Could the company be starting to suffer from a Boxing Day hangover?
Buzz: 14,702 mentions
Sentiment: 36% Positive / 51% Neutral / 10% Negative
Reach: 47.4m
Hashtag use: 6,675
M&S
The one time kings of the Christmas ad have become the wise men this time around. M&S had by far the best social strategy around their ad this year. The execution had an estimated reach of 3.7m, despite gathering a relatively small 534 mentions. This was down to the company's investment in campaign-related social media for their Christmas handle @thetwofairies, which was set up to promote their CSR credentials. This drove a lot of interest outside of the usual social sources, with 12% in news and 11% in blogs and forums.
Buzz: 534 mentions
Sentiment: 42% Positive / 51% Neutral / 7% Negative
Reach: 3.7m
Hashtag use: 188
Argos
For most people, Christmas at Argos is now all about #Christmasinhollis and #rundmc, the 2nd and 4th most used Hashtags respectively. And most of this sentiment was positive. A pay-off for eschewing the classic 'people celebrating a traditional Christmas/modern tear-jerker' style of Christmas ad that have become prevalent nowadays. Argos also benefitted from some good media placement by launching the ad during the X-Factor. They did, however, miss out on some extra buzz by not dedicating a Hashtag to the ad.
Buzz: 213 mentions
Sentiment: 39% Positive / 26% Neutral / 35% Negative
Reach: 625,405
Hashtag use: 16
Sainsbury's
We have a new Christmas champion. John Lewis's star has fallen off the tree and been replaced by the Sainsbury's angel. The ad received 24,000 plus mentions in the first week alone (however, it is worth noting that a lot of these mentions are about the chocolate and not just the ad). For an ad that seemed to stir up controversy in some areas of the media about exploiting the war, it actually had very high positive sentiment. This was driven by the partnership with the Royal British Legion, which was generally well received. Interestingly the ad benefitted from being the last to air because people spent a lot of time comparing it to the rest of the crop.
Buzz: 24,401 mentions
Sentiment: 29% Positive / 55% Neutral / 16% Negative
Reach: 83.7m
Hashtag use: 8,042
Lessons
There are some great ads in this year's crop and much to feel festive about, but there are also lessons to be learned.
Spend some budget on a full paid social strategy to drive mentions and buzz once the ad has launched

Give your work a Hashtag and ensure it is clearly seen in the ad

Look for context when analysing your social results

Be very careful who your brand spokespeople/main characters are – models and jazz pianists don't go down well.

Pick a good song…..it can do wonders
Click on the red spots below to see the estimated reach in £ and the number of views for each of the leaders: