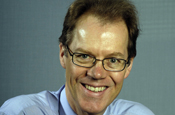 He has been named as the preferred candidate to take over as Information Commissioner at the Ministry of Justice.

His expected departure will spark a search for a new person to lead the body that now regulates all advertising in Britain.

In his new role, Graham will take charge of the independent authority set up to promote access to official information and to protect personal information.

If the Justice Select Committee ratifies Graham's appointment, he will succeed Richard Thomas, who retires in June.

A former BBC producer, Graham, 58, joined the ASA nine years ago.

Four years later, he was chosen to lead an expanded ASA when its remit was extended by Ofcom to cover all ad regulation whether broadcast or print material, internet ads or text messaging.

Since then, he has had to steer a tricky path between politicians who believe the ASA is too lenient and an industry that sometimes thinks it is too harsh.

The controversies over obesity and binge-drinking have added to the pressures on the organisation.

Graham said: "Director-general of the ASA is one of the best jobs in the world but I've been doing it since April 2000. It's time for somebody else to take things to the next level."

The ASA becomes the second major advertising body to be seeking a new leader.

In November, Baroness Peta Buscombe announced she was quitting as the chief executive of the Advertising Association to chair the Press Complaints Commission.