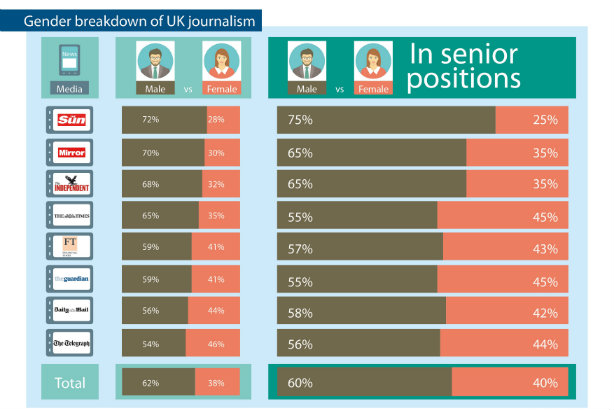 The PR firm's analysis of 3,004 newspaper journalists from the eight leading daily national titles found that women comprise 40 per cent of senior staff. This ranges from just 25 per cent at The Sun – the lowest figure by a margin of 10 percentage points - to 45 per cent at The Times and The Guardian, and marginally less at The Telegraph, Financial Times and Daily Mail.
This compares with figures recently published by Lord Davies' ongoing review into gender balance in the boardroom, which found that just 26.1 per cent of FTSE 100 directors are women.
Looking at all roles rather than just the most senior, newspapers were marginally less balanced, with 62 per cent of journalists being men and 38 per cent women.

The Telegraph had the most equal split between men and women on staff with 54 per cent men and 46 per cent women. The full results for all levels of staff are shown below.
Kate McAndrew, senior counsel at Cicero Group, who joined the agency recently after leaving a position as executive producer at Sky News, said: "While more can and should be done to increase gender equality in the newsroom, these figures are certainly positive compared with the not too distant past. Having spent 25 years in the media I can say from first-hand experience how difficult it is for women to get ahead, so I am pleased to see that this is changing at national newspapers.
"Given the high levels of media scrutiny around the issue of gender equality in the boardroom, it is refreshing to see that these leading UK news outlets are well ahead of many of those businesses they scrutinise."
This article was first published on prweek.com