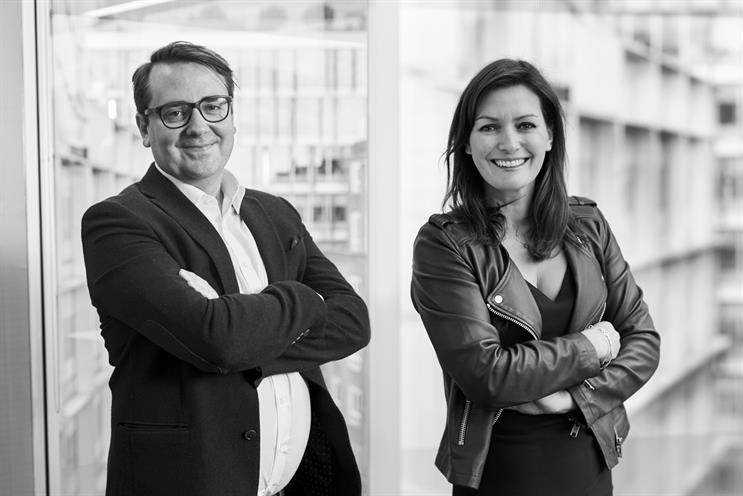 1992. The Queen had a horrible year, John Major was elected prime minister, Stella Rimington became the first director general of MI5 and the Thames Television and TVS ITV franchises disappeared. And over in Marylebone, Cilla Snowball joined Abbott Mead Vickers BBDO as its first new-business director.
Much has changed over the past 26 years but, much like the Queen, Snowball has been an enduring figure, both within advertising and AMV, rising to managing director, chairman, group chairman and group chief executive. She announced her impending departure this week and anointed her successors – chief client officer Sarah Douglas as chief executive and managing director Justin Pahl as chairman.
Both have worked at the agency for extended stints – AMV has always engendered loyalty – but both have, inevitably, not enjoyed the profile that Snowball has. Campaign asked them how they are going to change this, and about the agency and themselves.
Sarah Douglas
Why did you get into advertising?
A passion for economics and a love of art, which I couldn't make stack up in any other industry.
What's your proudest professional achievement?
The double Grand Prix at Cannes this year for Essity "Blood normal" was pretty special: for us, for them, for my daughters and for the daughters of women everywhere.
What's your proudest personal achievement?
My children.
Tell us your best joke.
What do you call a sheep with no legs? A cloud.
You've been at AMV for 20 years, yet Campaign has only written about you on average once every two years. Do you think you've got a low profile and is it something that you deliberately sought?
I have been at AMV for 18 years – Jeremy, you've added two years to my life which I have yet to live! Unless you are Dr Who or some other time traveller, please give those back to me. I might need them when I'm older.
I've always thought it rather odd that key protagonists in this industry chase individual status. This is a team sport. Always has been. Always will be. What has been important for me to date has been the health and growth of the client brands under my stewardship, aided by creatively outstanding work and the happiness and strength of the agency to which I have given a significant portion of my adult and professional life. So, yes, if that equates to a "low profile", I am down with that.
Do you think you'll need to change it for your new role and, if so, how are you hoping to achieve this?
Yes. Of course. A CEO's role is to face outwards. I believe profoundly in the strategic and creative firepower of this agency and I will delight in telling anyone and everyone why. But I am less interested in profile for profile's sake and far more interested in letting our work speak for itself. My job is to harness the power of our collective creativity to deliver ongoing growth for our clients, and raise and lead an agency of happy, motivated people, and I will gladly shout that from the rooftops as we go.
Who will be the spokesperson/cheerleader for the agency, and if it's you how are you going to do it?
I don't think any CEO in town has a spokesperson/cheerleader bench like I do: Alex [Grieve] and Adrian [Rossi], Craig [Mawdsley] and Bridget [Angear] – a super-smart and fiercely passionate quartet of consistent external ambassadors for the AMV brand who I am lucky enough to call friends. And as CEO, I will definitely be adding my voice to that, although I will leave the acerbic wit to Craig.
To outsiders, AMV has had some big highs and big lows this year. How would you describe its performance?
We have won £106m of new business this year alone. If that were an agency, it would be the 18th largest in the UK by billings. Our creative work has never been more awarded. In fact, this year we won more Cannes Grands Prix (three) than in AMV's entire history combined. Yes, we lost Camelot. But as you have already pointed out, the work which followed that appointment was "offensive", so I am not losing any sleep over that.
Do you plan to change this and if so how?
The one constant in this industry is change. So there is no plan without change. Central to my plan will be my eight-year proven partnership with Alex and Adrian, and focusing the agency on delivering ever more breakthrough work that works. But in my role as chief client officer, I have spent a lot of time listening to clients and I have a clear view on what more they want and need to compete even harder, so deploying our enviable intellectual and creative skillsets to answer more of these tough questions to unlock growth for clients will be my immediate focus.
How would you describe your management style and how does it differ from Cilla's?
Cilla has been a beacon of the agency for 26 years. She has been both a mentor and a friend. But I have never been a sheep and I am the keeper of my own flame, so whilst we share the same values our styles will undoubtedly be different.
What is the division of labour between you and Justin?
I am responsible for running the agency and Justin will continue to focus his wisdom, energy and deeply thoughtful collaboration on clients.
How do your skills work together?
We have worked together for a decade. We know each other very well. And what we both have in common is a deep affection for our people, an unrelenting curiosity about our clients business and a fierce passion for our work.
What is Cilla's legacy?
Cilla was the first woman CEO of Abbott Mead Vickers. The ultimate trailblazer.
And what do you hope to be yours?
I'm not thinking about legacy yet. I've got a job to do and I intend to do that so well that my legacy will speak for itself.
Justin Pahl
Why did you get into advertising?
I wanted to work with cool people and see the world. So far, it has delivered!
What's your proudest professional achievement?
My proudest moments have been seeing our people totally smash it.
What's your proudest personal achievement?
No rational or sane person would have believed it was possible for me to bag my utterly amazing wife. She is my ultimate overachievement.
Tell us your best joke?
How many copywriters does it take to change a lightbulb? None. They are not changing a bloody thing.
How will your new role differ from what you were doing before?
My MD role was focused internally. My new role will be focused more externally. I really want to spend as much time as possible working with our brilliant clients and building our opportunities out in the world.
Who has overall responsibility for the P&L?
Sarah is CEO and will own the P&L.
Who will be the spokesperson/cheerleader for the agency, and if it's you how are you going to do it?
I want to tap into new networks of business and talent, as well as creating opportunities through connecting our group and external friends.
How do you think the group has been performing?
Our stunning win on Ford shows how powerful our company can be when we connect the right people in the right way. I will be working directly in applying the best of Omnicom to that challenge and rolling that out to our other clients. There is so much untapped opportunity and value waiting to be unleashed.
Are there any specific areas that you want to improve?
Always. Improvement is a daily diet.
How do your skills match Sarah's?
Sarah and I have worked together for 10 years in all sorts of great ways – clients, agency initiatives, strategies. We will be a great team making amazing things happen for our people and our clients.
What is Cilla's legacy?
Cilla proves that there is no limit for people who do things the right way.
And what do you hope to be yours?
I will focus on doing good things. In the end, it will be for others to decide what that means…