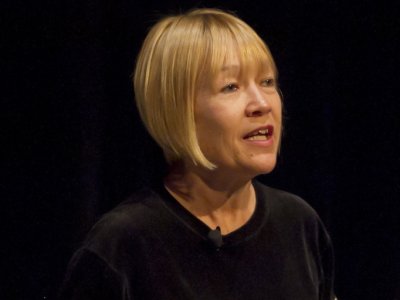 Speaking to Campaign after a provocative address at the Guardian's Changing Advertising Summit, Gallop urged the industry to set about redesigning both "the agency" and its business model before it's too late.

She said: "You need to blow yourselves up and start again. You need to think about it like that. You can't stick on solutions, you can't just add bits on, which is what everyone's doing.

"You need to restructure from the core. This is actually what you are already doing anyway as a process of attrition, when you lay people off, when you shut down divisions. Turn that into an opportunity.

"At the moment you are breaking things down, actually use that to completely redesign from the ground-up to start again."
During her presentation, the 52-year-old former ad executive and founder of 'Make love not porn TV' had highlighted fundamental problems she perceives in the current model.

She told the audience to think about the ads people receive every day, and then think about the way they are received and the message that can convey in itself.
From, "you can download this for free, if you just watch these ads", to "you can make your calls for free if you just agree to receive ads to your phone", and – her personal favourite – the pre-roll ad countdown; "Just 10 more seconds to go, nine more seconds, to go, bear with us, eight more seconds to go".
Gallop said: "What all these messages are driven by, and what they communicate, is that advertising is a very bad thing. And that therefore people have to be tricked, cajoled, persuaded, begged, bribed or blackmailed into watching it."
Citing Mark Goldstein's observation, the former chief marketing officer of Fallon, that "people hate advertising in general, but they love advertising in particular" – meaning when asked they say they do not like it, yet everyone can still name a favourite ad in any given moment – Gallop said this perception had to switched around.

"We have to make people love advertising in general," she said. She believes to do this, the industry needs to move away from stated ambitions of 'making good advertising', towards 'making advertising good'.
She said: "[We need to make] people believe that what we do is actually a force for good, if we actually want to have a future."
Gallop believes the future will be about "action branding", where brands and consumers act together to create impacts in the real world, that can benefit consumers, benefit society and benefit the brand and its business.

This has formed the basis of her business, IfWeRanTheWorld, described as "making money because we do good".
She said: "We [need to] find a way to integrate social responsibility into the way we do business on a day-to-day basis, that makes it a key driver of future growth and profitability. I believe that the business model of the future is shared values, plus shared action, equals shared profit - social profit and financial profit."
For Gallop, the former chairman of Bartle Bogle Hegarty, all ad agencies, in addition to broadcasters, publishers and record companies among others, currently represent "old world order places", and a complete redesign is required.
Asked by Campaign if she believed any agencies out there are currently doing this, Gallop replied, "No". She added: "One of the reasons for that is because the people who start new agencies in our business are usually a person or groups of people who have had a very long, celebrated career in the more traditional agencies.
"And however innovative you think your start-up agency's going to be, you will never invent the future when you still care too much what the old world order thinks.

"So if you start a new agency, but it matters enormously what Campaign writes about it, you're screwed – do you know what I mean?"
Follow @DurraniMix