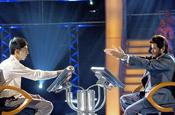 Adspend increased by 5.3 per cent year on year to £9.5 million, according to Nielsen Media Research. Total cinema admissions for January were 14,504,588, an increase of 7.7 per cent on the previous January, according to the Cinema Advertising Association.

The figures follow a strong performance in 2008, with admissions up by 1.1 per cent to 164.2 million, driven by the industry's most successful summer since 1969.

Slumdog Millionaire, directed by Danny Boyle, has been watched by 4.1 million cinema goers and taken £20 million, according to the CAA.

Martin Bowley, the managing director of the sales house Digital Cinema Media and a CAA spokesman, said: This proves that cinema offers a quality home for advertisers.

A similarly strong line-up of films across the remainder of 2009 and 2010, coupled with the growth of 3D cinema, will ensure the cinema remains the place to be for consumers and brands.