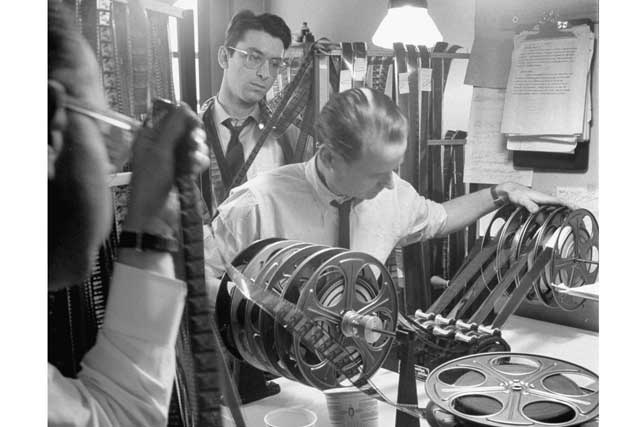 When Digital Cinema Media was born out of the ashes of Carlton Screen Advertising back at the beginning of 2009, its name was a statement of intent. After all, how could an analogue business have the word digital in its title? Well, it has been three-and-a-half years and DCM is finally on the home stretch.
Cinema has been one of the last bastions of the analogue world. In an age that is increasingly about ones and zeros, women and men in white lab coats are still stitching together pieces of analogue film to produce the ad breaks played before films in some movie theatres.
By the end of September, things will have changed. The majority of cinemas will be able to serve ads digitally. In preparation, the main cinema sales houses, DCM and Pearl & Dean, have started talking to agencies about how this could change the way cinema ads are bought and sold.
At present, agencies and brands wanting to use cinema have to provide ads three weeks before the campaign starts. Campaigns can be targeted by genre, film or cinema screen, but must start on a Friday and be booked in seven-day runs. Advertisers are unable to use multiple executions or target by time of day or week.
There is hope that being more flexible will attract new advertisers and bring more money into the medium. And it appears that the film industry could do with it. Figures from the Advertising Association and Warc estimate the cinema advertising industry was worth £172.1 million in 2011, down 6.6 per cent year on year.
1. DCM was formed from Carlton Screen Advertising, which Odeon and Cineworld bought from ITV in 2008. After taking on the Vue contract (previously handled by Pearl & Dean) at the beginning of 2011, DCM's scale grew to about 80 per cent of the cinema ad sales market with 2,857 screens.
Until now, each screen has only been able to show one playlist (or reel) of ads each week. The ad reels are posted out each week either in film form or, for the digital screens, on USB sticks.
2. The former Mindshare chief executive Simon Rees joined DCM as its chief executive in May last year, with a stated ambition to make the move to digital ad-serving. Rees appointed DCM's former finance director Marc Whitehead as the project director of the initiative, dubbed "Going Digital", which is the first phase of a repositioning of the company.
3. Cinemas have invested millions in switching their screens to digital. For advertisers, the most exciting part of that investment is the software that allows the cinemas to receive ads digitally. Now, DCM has put money into an online scheduling and ad-delivering system. By 28 September, 95 per cent of DCM's screens will be digital and advertising campaigns will be able to be planned by individual film time showings, which is revolutionary for this medium.
"We're fundamentally modernising the business," Rees says. "Rather than having one playlist a week, we will be able to serve up to 90,000 playlists of ads a week."
"This news is a major step forward for the cinema industry and advertisers alike," Simon Willis, the head of AV at MEC and head of Group M cinema, adds. "Advertisers will be able to buy space on any day of the week and start a campaign at a time that suits, while also being in a position to change or rotate copy and access the 'reel' at late notice."
4. Pearl & Dean, which is backed by the owner of Empire cinemas, accounts for the other 20 per cent of the market. Through a partnership with Dolby, the majority of Pearl & Dean's 950 screens have been able to serve ads digitally since the beginning of this year. Yet, by and large, the ads are still being sold the same way as the sales house looks at its strategy going forward.
5. Pearl & Dean's sales team has started to speak to media agencies and advertisers about how cinema campaigns could be planned and bought. Mike Hope-Milne, the enterprise director at Pearl & Dean, says it will look to sell campaigns that start on different days or rotate copy. He is less keen on moving beyond that and selling day-parts individually.
"Just because you can do something doesn't necessarily mean you should," he explains. "We're trying to take a long-term, pragmatic view to see how it could best work with our customers."
WHAT IT MEANS FOR ...
ADVERTISERS
- "For cinema, it's a brave new world," Martin Broad, the business director at Mindshare, says. "Not only does the flexibility offer far more opportunities for our clients, but the digital switchover allows for far more creative and immersive opportunities to target the audience and enrich their experience."
- Brands will now be able to plan and buy cinema campaigns in more flexible ways, edging closer to how they use other media. It could still take five days to get an ad on screen and up to ten days to get ads cleared for screen (as meetings are only held once a week) but, generally, the process will be much quicker.
- The next stage will be to speed up the clearance process so ads can get on screen much quicker and evaluate whether targeted cinema campaigns are more effective and worth more money.
CINEMA SALES HOUSES
- Cinema will be open to new revenue streams as new advertisers and categories will be able to use it. Rees suggests retail, leisure, film and music brands could look to the medium. The move to digital ad-serving represents a real investment and allows cinema to be more responsive to the increasingly short-term market.
- DCM talks bullishly about premiums for targeted campaigns, but cinema is already an expensive medium. It remains to be seen if brands will pay higher prices. In addition, there is a risk that, if cinema sales houses let advertisers choose the more desirable showings or times of day, there will be unsold inventory elsewhere.
- Sources suggest the cinema ad market is holding up this year, estimating growth of flat to 5 per cent, but with the wider economic uncertainty, sales houses will be glad of any potential new revenue streams.
Follow @MaisieMcCabe