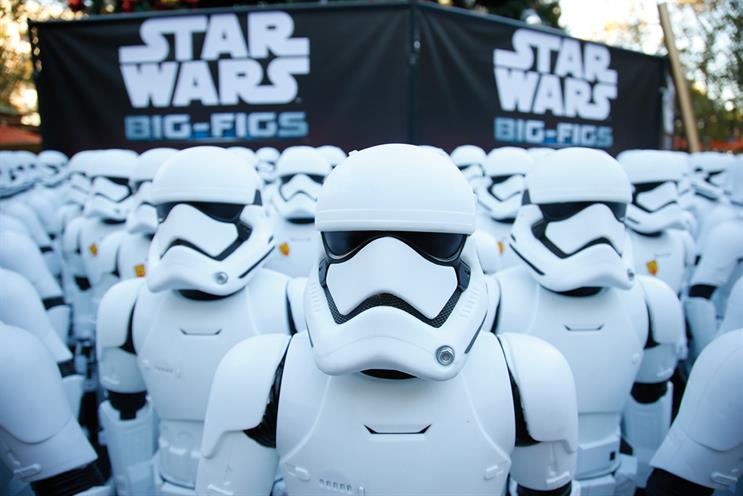 Cinema advertising revenues have made the jump to light speed. The combination of Star Wars: The Force Awakens and the James Bond movie Spectre sent revenues at Britain's biggest cinema sales house, Digital Cinema Media up 27 per cent last year – ahead of box-office admissions, which rose about 9 per cent.
And the good times are set to continue as revenues are up 56 per cent in January, thanks to the ongoing strength of Star Wars: The Force Awakens, which has exceeded expectations, according to the DCM chief executive, Karen Stacey.
Revenues in the first quarter are on course to rise 25 per cent. Although momentum is likely to slow later in the year: Stacey is forecasting annual growth of 5 to 8 per cent.
This represents a turn-around for a medium that saw ad sales, including production costs, slump 20 per cent from £176 million in 2008 to £139 million in 2013, according to Group M.
However, last year's bounce sent revenues up to £178 million – with DCM holding about four-fifths of the market and Pearl & Dean the remainder.
Samsung was the top spender in the 11 months to November 2015, investing £6.9 million – more than double a year ago, according to Nielsen data supplied to DCM.
Sky, Procter & Gamble, HTC and Lidl completed the top five, all spending more than £5 million. Lidl's spend was up nearly tenfold.
Aside from blockbuster films, the key driver has been the digitisation of cinema screens and ad sales that only completed in 2012.
An analogue industry, with lead times of four weeks and 35mm film production costs of up to £100,000 per commercial, has been transformed. It is now a dynamic digital business where an ad can be made ready in days. It costs as little as £3,000 to convert a TV spot into a big-screen version, and DCM can distribute it to cinemas direct from its Euston Road offices.
Group M says TV inflation, no late-booking fees and "immunity" from problems such as online ad-blocking and viewability are further reasons why cinema is buoyant.
Stacey argues that film-going also makes an emotional connection with consumers at a time when "there is a lot of talk about the challenges around ad receptivity", with too many brands having focused on promotion rather than persuasion.
She adds that the cinema is "a haven" – an uncluttered environment where we want to lean back, offer our undivided attention and be wowed.
It is also a medium where consumers cannot skip the ad, which is why DCM has a policy of refusing political or religious ads, which triggered a row with the Church of England last autumn.
Stacey's big idea since taking the job a year ago has been to persuade advertisers that cinema isn't a niche medium. Instead, she believes it should be seen as part of a bigger category, "AV", that includes TV and video-on-demand.
"My whole mantra is that we are just a big telly," Stacey, who previously worked for Channel 4 and Bauer's radio arm, says. "Cinema should be on every AV [media] plan."
Being part of AV opens up an ad market worth more than £4 billion.
Cinema is not a substitute for TV, but Stacey points to research from BrandScience that found a brand should spend between 5 and 10 per cent of its AV budget to gain optimum reach and effectiveness – particularly with audiences that TV doesn't reach.
At present, cinema only has 2 per cent of AV, so there is room for the sector to grow, and Stacey is aiming for 5 per cent (see graph, left). Some ad categories "over-index". Motoring brands spend more than 8 per cent of their AV budget on cinema; alcoholic drinks spend more than 12 per cent. Others, such as pharmaceuticals, electronics and DIY, invest only 1 per cent or less of AV on cinema. Stacey is targeting TV advertisers that shun cinema. Aldi, Argos, DFS and Mars each spent more than £25 million on TV and zero on cinema in the 11 months to November 2015.
Apple was another notable absentee. But Google bought the Gold Spot – the final spot on the 12-minute advertising reel before the film begins – during Spectre screenings.
EE used to "own" the Gold Spot but its decision to vacate it has been good for DCM, which now sells the spot on a film-by-film basis and doubled its revenues. "It's your best spot. Why sign it over to one brand?" Stacey asks.
She is optimistic about the medium term. The cost of opening new cinemas has fallen because of digital, and 4DX screens, which offer sensory enhancements such as smell and water spray, are pulling in younger customers.
Advertisers can also make cinematic-quality branded content to sit in a paid-for spot on the ad reel – just like a B-movie before the A-movie.
They are all reasons why Stacey maintains that cinema is thriving in the era of Netflix: "Going to the cinema is very social. You don't go on your own. It's an evening out."