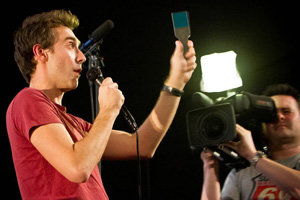 The science show will use Cinamatrix's audience interaction wand to demonstrate the power of crowds in what is known as swarm behaviour.
The programme's participants will each use wands to control the colour of their personal square on a screen. The experiment aims to show that large groups can quickly learn to work together and coordinate their colours to match each other's.
The technology can be used at events or team-building activities to cast votes or play complex group games. Audience members hold up either a red or green face of their wireless wand, which is detected by sensors. Cinematrix says it believes the system could work with an audience as large as 100,000 people.
Mike Reddy of Cinematrix said: "The Bang Goes the Theory team showed how you can create a real buzz in large groups. There was a lot of excitement as the audience members first discovered they could control an on-screen colour, and then went on to discover that they could cooperate as a team by playing an underwater themed version of 'Pong'. Viewers of the show will see how they discovered an exciting natural aspect of human behaviour."
Dallas Campbell, a presenter on Bang Goes the Theory, said: "We wanted to show how individuals in large groups can collaborate naturally without the need for any instructions. We see this kind of behaviour in nature when large groups of animals seem to work together without any kind of leader such as in schools of fish or flocks of birds. Although it is not always easy to see in humans, our interactive experiment revealed that we are also hard-wired to show swarming behaviour."
Bang Goes the Theory will be aired tonight at 7.30pm on BBC One.
To leave a comment
register
and let us know your thoughts.
For more in-depth industry features, showcases and interviews with world-leading brands, don't miss the next issue of Event magazine by subscribing here.
Tweet