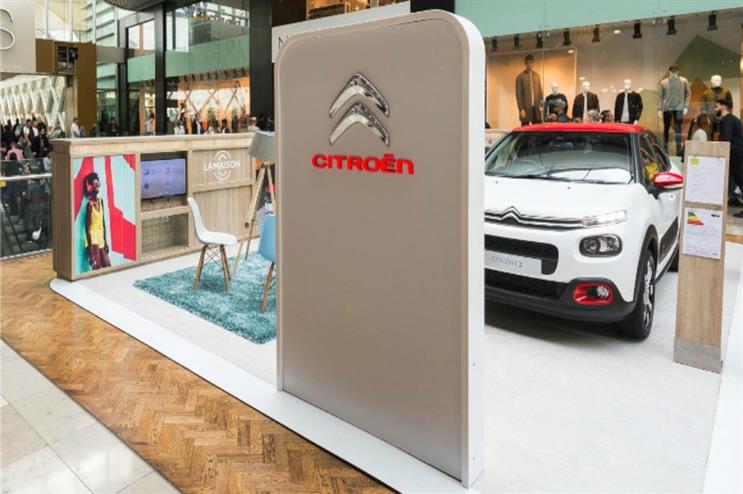 A Citroën pop-up stand – open to the public since the beginning of October 2016 – is a key part of the partnership, which aims to showcase the brand's bold and spirited personality, including the very latest automotive technologies and the UK premiere for New C3 and ConnectedCAM Citroën. This new feature allows users to upload images and videos from smartphones to social media instantly.
The display area will host a range of events and activities for customers, the first of which is dedicated entirely to New C3 until the New Year. Customers also have the opportunity to explore their favourite Citroën from any point in history using an interactive screen.

To mark the partnership, and with access being granted for the first time since Coca Cola activated the space during the 2012 Olympics, Citroën staged a takeover of the Westfield Stratford City Link Bridge from 3 September to 1 October, with a large campaign installation that highlighted Citroën's most important historic moments and popular models. The bridge is a strikingly designed pedestrian platform linking Stratford's town centre to the shopping destination, which attracts an annual footfall of over 47m.
At 120 meters long and 4.4m high, the installation took four nights to install and had to be carefully constructed to allow for the bridge dimensions, curves and numerous panel sizes.
As the partnership continues, Citroën will be launching a competition for Westfield visitors, giving them the chance to win a 12-month loan of the New Citroën C3.
Paul Buttigieg, director of dhopping centre management at Westfield UK & Europe said: 'Westfield is very proud to partner with global brand Citroën in the first of what will be a series of events, installations and UK-first customer experiences."
Chris Cheetham, marketing director of Citroën UK, added: "The opportunity to use the bridge space to tell the Citroën story is very valuable to the brand. An average of 650,000 visitors cross the bridge weekly so for Citroën to be able to create and display artwork that showcases the brand's innovative and bold spirit was seen as a great asset."
Cosmopolitan teamed up with Westfield Stratford in September to celebrate the shopping centre's fifth birthday, by hosting a six-day fashion-themed event.
Comment below to let us know what you think.