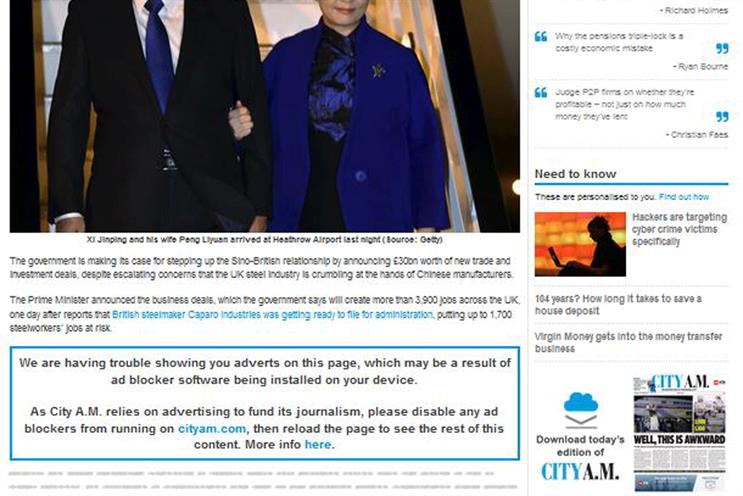 The paper launched the function today for Firefox desktop users, which make up eight per cent of its audience.
Anyone using the software that lands on an article on cityam.com will see the story blurred out and a box that says, "We are having trouble showing you adverts on this page, which may be as a result of ad blocker software being installed on your device.
"As City AM relies on advertising to fund its journalism, please disable any ad blockers from running on cityam.com to see the rest of this content."
The accompanying link to the FAQ page offers the reader more information about City AM's ad-funded model and how to disable the ad blocking software.
Martin Ashplant, the digital and social media director at City AM, said the paper has been tracking ad blocking usage on its site for two months and found 20 per cent of its audience are using the software.
He said: "We produce content that has a value and serve an audience that understands the need to make money out of what they do. We have to protect our ad-funded model."
There are plans to roll out the ban on other web browsers once City AM has monitored the statistics.
Ashplant said City AM would not include mobile in the ban just yet as it makes up 35 per cent of its audience. He said mobile ad blocking is "still a very embryonic world".