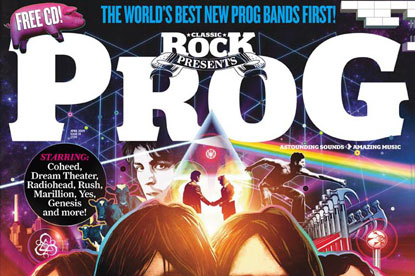 Classic Prog is a series of four special editions dedicated to progressive rock. If the specials are successful, they could lead to the development of a prog rock magazine by the publisher.

Future hopes to capitalise on a prog rock revival inspired by the 30th anniversary of Pink Floyd's The Wall album this year.
Classic Prog mixes legendary bands such as Pink Floyd and Yes with coverage of today's prog-inspired acts, including Muse and Radiohead. The title also features new prog rock groups such as Diagonal, Dream Theatre and The Mars Volta.
The Classic Prog specials are edited by the rock music writer Jerry Ewing, who founded Classic Rock for its previous owner, Dennis Publishing, in 1998.
The first special goes on sale on Wednesday 25 March and profiles Pink Floyd.

It also comes with a "new prog" CD featuring a selection of up-and-coming prog musicians. The title offers a collector's wallet, inspired by the most elaborate prog rock album sleeves of the 60s and 70s.

Chris Ingham, the publisher of Future's music-listening portfolio, said: "The Classic Prog specials give Future a fantastic opportunity to explore another musical niche passionately supported by real music fans, but largely ignored by traditional media.

"Classic Rock and Metal Hammer were born out of the hunger music enthusiasts have for a deeper engagement with their favourite acts.

"Classic Prog has the same potential to ignite the passion of real music fans."