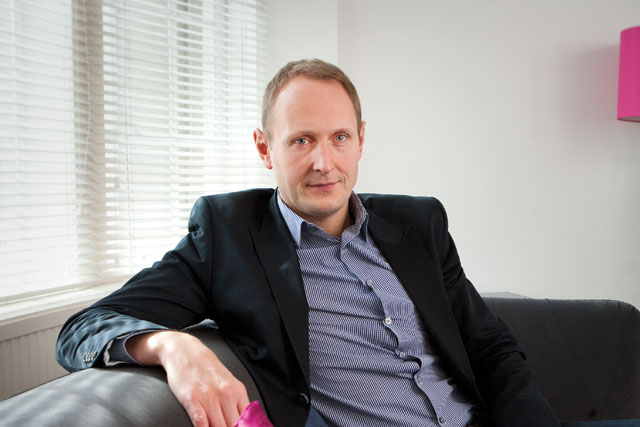 You can tell straight off that Dan Clays aims to be a very popular managing director at OMD UK. It is week one for him and yet he strides around the agency with familiar ease, introducing Campaign to a managing partner here, a head of mobile there, and signalling to an "exciting" unit called OMD Ignition, which "helps ignite creativity for clients".
Swinging over to another desk where a team of comms planners work on the client McDonald's, he proudly holds up a Clear Channel Outdoor Planning Award that the agency won the night before. "We need to celebrate this," he says to the team, who are clearly chuffed with their new boss' praise.
Enthusiasm is plainly something Clays has endless supplies of and is part of the reason why he has impressed Omnicom Media Group's chief executive, Philippa Brown, and OMD UK's outgoing chief executive, Steve Williams. After 15 years in the industry, Clays' enthusiasm remains as high, if not higher, than when he was a young TV planner and buyer at Carat and then a TV head at PHD.
The PHD founder David Pattison says that Clays has always emanated a positive vibe around colleagues: "When he left, we were a worse company for a short period of time, not just because of his great ability but because of his positive influence around the agency - he has a confidence about him."
Certainly, Arena Media could be feeling the sting of losing this positive influence. Clays worked there tirelessly for 12 years, first helping to build its online agency, Arena Quantum, and latterly managing the integration of digital into the main agency in his most recent role as its chief strategy and development officer. It was Clays who championed a clear vision for the boutique Havas agency over the past two years, masterminding a point of difference for its planning process and refocusing the agency's positioning.
With this transformation complete, Clays says now was the right time to move on: "Moving to OMD made such total sense because my transition away from pure-play digital had happened over the past two years, and my focus had changed to creating a clear strategy for a business and how you put innovation at the heart of an agency."
And now that Clays is out of his lengthy notice period and back from a holiday in Antigua with his family (which included a stressful episode where his son narrowly avoided being blinded after touching the most poisonous plant in the region), he is able to throw himself into his new challenge.
When Clays began talking to OMD UK, he realised he would be signing up to be the leader of the agency, as it was made clear during negotiations that Williams would eventually depart to an Omnicom role in New York (he has since been named the president of PHD) and that the chief executive vacancy would not be filled.
So the job is bigger than it at first seemed to onlookers. But Clays is not daunted by the responsibility of running the whole show, because "the talent around me is great, and the talent above me is great".
"There is no end to the support network around me," he adds, no doubt referring to Brown, who will take a more active role in the agency from her group vantage point.
It was no secret that Clays was headhunted by the other networks - he is a rare commodity in this industry. His OMD UK predecessor, Jonathan Allan, moved to Channel 4, and Clays brings both traditional media and digital expertise.
James Wildman, Yahoo!'s managing director and vice-president, sales, says: "While other media heads are still learning their digital craft, he is digital through and through but also has an understanding of the wider business. He is widely respected as a result."
As Pattison points out, Clays saw the opportunity of moving into digital ahead of the curve: "Dan left to go to Arena to work at its digital bit at a time when I don't think anyone knew what a digital bit was."
Clays says he opted for OMD UK over competitors because he felt that, for him, the role had "the greatest potential". He explains: "I felt I could add real value to OMD and that we could build the agency and move it forward quickly and quite visibly." Clays adds that he was impressed with what Mainardo de Nardis, the chief executive of OMD Worldwide, had done for the network at a global level.
When it is put to him that some critics feel OMD UK's culture has suffered in recent times, Clays admits the UK shop needs an injection of joie de vivre: "I think it is fair to say OMD has been quiet in the UK, partly to do with the agency modestly going about its business. It has a fantastic client list and really great talent. It's won a bunch of awards recently and the business commercially is very sound."
Other critics suggest that Williams, whose girlfriend works in New York and who spent most of the last quarter of 2011 leading the pitch for General Motors from the States, wasn't in a position to give OMD UK the full attention it needed. Coupled with Allan's departure for Channel 4 in July last year, the agency has lacked some management TLC in recent times. "I think it's fair to say the agency needs fresh momentum and direction," Clays says. "It needs to step out of the shadows."
While some confidence may have been knocked after the loss of the Post Office and Royal Mail accounts in January, Clays says that his first priority before focusing on new business is OMD UK's existing clients.
And it is clear that he will happily shower the agency and its clients with lots of TLC. When asked if, like all good leaders, he has a 100-day plan, Clays' eyes betray a look of shock: "One hundred days is a luxury. You've got to be faster than that in today's world."
It is a good indicator of character when so many people turn up to your leaving drinks that it could be mistaken for a wedding party - something that was witnessed when Clays hosted his Arena Media leaving-do last month.
But this is no surprise for a man with many fans. Wildman says: "He is a lovely guy - a very kind and gentle man." Pattison adds fondly: "When running a company, you're always sad when good people leave. But then there's a special group of people you hope will never leave and Dan was one of them. He is a smart boy."
It surely won't take long for Brown to feel the same way.
THE LOWDOWN
Age: 38
Lives: Balham
Family: Wife Jo, George (two), Lily (six months)
Favourite restaurant: Le Petite Maison
Hobbies: Learning golf
What do you hate?: Northern Line arm-rest hoggers
Most recent downloads: Arcade Fire, Jay-Z, Kanye West, Maverick Sabre
What media do you like?: The Sunday Times, Saturday Guardian, Homeland
on Channel 4, Spotify. My guilty pleasure is ESPN Classic
Always in the fridge: Fresh pasta (the cheating kind), a bottle of
Chablis and Green & Black's white choccie. Perfect night in
If I wasn't working in media, I'd be ... Near the sea writing a book