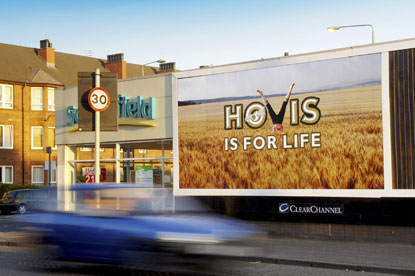 The cuts affect the outdoor company's 48-sheet panels and have taken place over the past three months, according to figures released this week from Postar.
Clear Channel reduced the number of 48-sheet billboards from 5,984 in February this year to 5,044 in May, in a move that the company says is part of an ongoing drive to cut panels that it considers to be bad quality.
Clear Channel says the decision was not driven by the recession, but in a bid to increase its levels of panel illumination and improve Visibility Adjusted Contact, a tool that predicts how many people will actually see the poster.
Steve Atkinson, the group sales director at Clear Channel, said: "This is not a short-term knee-jerk reaction. This is a flight to quality. Nothing that we are doing is being driven by necessity. It's being driven by a positive strategy."
Clear Channel has fewer 48-sheets in its inventory than its competitors JCDecaux and Titan Outdoor. JCDecaux reduced its 48-sheet roadside panels from 9,155 in February this year to 9,023 in May, while Titan cut its 48-sheets from 7,476 to 7,295 over the same period, according to Postar.
Last week, Clear Channel Outdoor announced a 25 per cent year-on-year fall in global revenue from $775.6 million to $582.2 million in the first quarter of 2009.
Earlier this month, JCDecaux reported year-on-year revenue down 11.9 per cent in the first quarter.