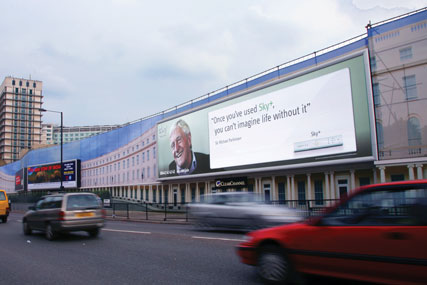 The annual results from the US-based outdoor media company did not reveal further details about UK revenues, but non-US revenues amounted to $1.5bn during 2009, down 21% year on year.
Clear Channel Outdoor's global revenues were $2.7bn in 2009, down 18% when compared with 2008. Approximately $118.5m of the decline in ad revenue was due to movements in foreign exchange rates, according to the results statement.

During the final three months of 2009 global revenues at Clear Channel Outdoor were $763m, down 3% year on year, of which $423m came from the international division, down 5% when compared with 2008.
The company made a 2009 operating loss of $815m, after taking an impairment charge of $890m, and a net loss of $868m.
This was an improvement from the $2.9bn net loss it made in 2008, which included an impairment charge of $3.2bn.
The international division made an operating loss of $68.7m last year.
During 2009, Clear Channel Outdoor's global OIBDAN (a non-GAAP financial measure, defined as operating income before depreciation and amortization, non-cash compensation expense and gain [loss] on disposition of assets – net) was $535m, down 28% year on year.

Clear Channel International's OIBDAN was $163m in 2009, down 40% year on year.

For the three months to the end of December, Clear Channel Outdoor's global OIBDAN was £156m, an increase of 11% from 2008, and the international division's OIBDAN was $54.4m, down 9% year on year.

Mark Mays, chief executive of Clear Channel Outdoor, said: "Our fourth quarter results reflect a recovering advertising climate across many of our markets, as well as the positive impact of our cost restructuring initiatives. We achieved a significant gain in operating profitability during the quarter, capitalizing on improved revenue trends and a more efficient operating structure.

He added: "As we look to 2010, we remain focused on driving innovation across our worldwide platform, maximizing our revenues and fully capitalizing on the operating leverage in our business model."

Clear Channel Outdoor said cost savings from a restructuring programme and the decline in revenue at the international division, resulted in a decrease of $146.4m in site lease expenses, $34.3m in compensation expense and $25.8m in administrative expenses.