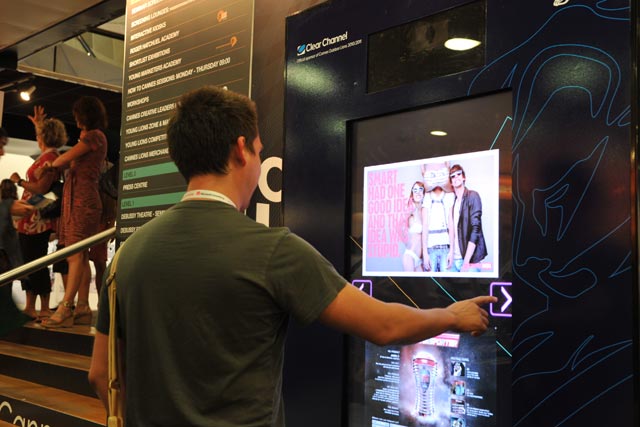 The new screens include multi-touch capabilities and are capable of motion sensing, gesture perception, face detection, colour recognition and augmented reality, and have been developed by Clear Channel's Create + Collaborate unit.
The screens incorporate 12-point multi-touch, HD cameras, movement sensors, infrared technology, 3G comms and eye-tracking software, and will allow advertisers to book campaigns that allow people to not only view live content, but also control the content, and star in the ads.
The two screens showcased at Cannes deliver three different interactive experiences created by the Create + Collaboration team and their partners, Tangibal and Grand Visual.
The first was a simple game using the face-detection functionality to enable the player to control the game by moving from side to side. The second is an augmented reality experience, in which attendees can become part of the advertising, while the third creates a customised car based on the colour of the clothes people are wearing.
Derek Manns, head of Create + Collaboration at Clear Channel UK, said: "What we have created is the most advanced interactive six-sheet, which uses technology to deliver memorable experiences for consumers while they are out and about.
"Out-of-home provides advertisers with a vital link between the on- and offline worlds, and we are dedicated to delivering innovative products that push the boundaries of our medium."
William Eccleshare, Clear Channel International president and chief executive, has already accused the creative world of failing to take advantage of outdoor's true capabilities, during a session at the festival.