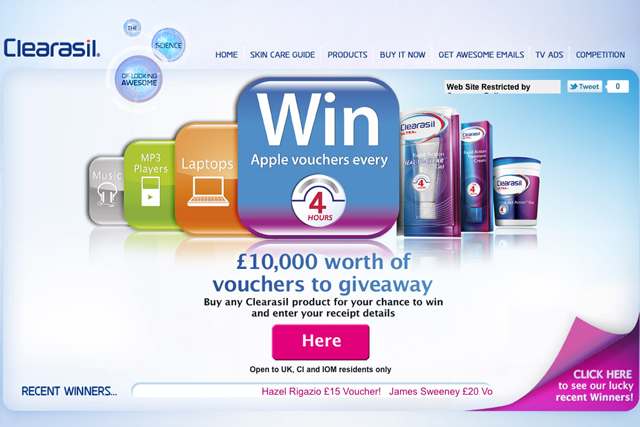 The campaign, created by agency Live & Breathe, runs until the end of September and will see the brand give away Apple vouchers every four hours until the end of the promotional period.
The campaign will run across the entire Clearasil range with an emphasis on its Ultra Rapid Action products, which claim to reduce redness of skin within four hours.
Consumers enter the receipt details of their Clearasil purchases at www.clearasil.co.uk to take part in the promotion.
The campaign is supported by in-store point-of-sale activity. The brand will further drive consumers to its website through a tag added on to current Clearasil ads running on TV.
In addition, Live & Breathe has redeveloped Clearasil's homepage with details of the promotion.
Nick Gray, managing director of Live & Breathe, said: "This promotion has been developed to communicate the Clearasil Ultra Rapid Action four-hour message in a way that will appeal to the brand's target market of teenagers and young adults."
Last week, Reckitt Benckiser backed down from a two-year trademark dispute with Boots regarding the Clearasil brand, which challenged the retailer's use of the word "ultra" in its skincare range. The Patent Office ruled that its was not persuaded that RB was entitled to claim the term "ultra" as its own.