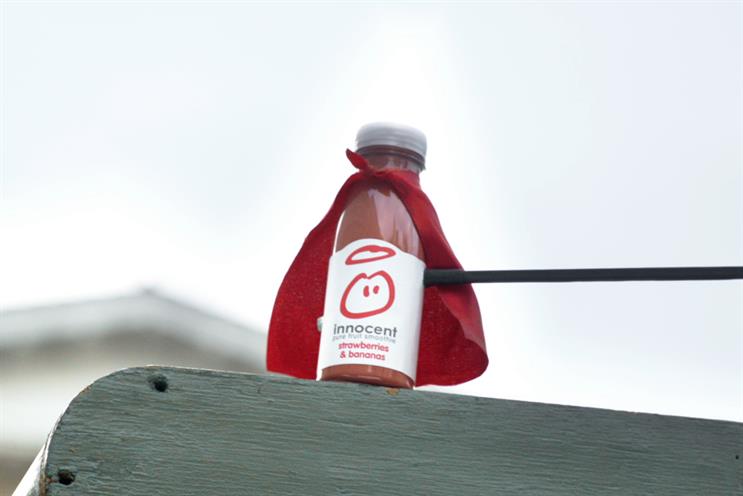 Innocent's brand name, in the agency world at least, can be viewed as deeply ironic. For the majority-Coca-Cola-owned smoothie manufacturer is guilty, in the eyes of some agencies, of treating them with a lack of care.
It has reviewed six times in the past five years, the most recent coming last week, when it announced plans to review out of Rainey Kelly Campbell Roalfe/Y&R after two years.
In mitigation, Innocent can point to a change in marketing director – Douglas Lamont recently replaced Thomas Delabriere – and the fact that it's running a serious process through the respected intermediary Agency Insight. This might bode well for agencies that do decide to throw their hats into the ring.
No doubt Innocent will pull a good pitchlist together, as it's offering a £6 million-billing account and a strong brand to an oversupplied market. That said, more than one agency Campaign spoke to claimed that Innocent's attentions will not be welcome. "I wouldn't touch it with a bargepole," one top-ten agency chief executive says.
It's perhaps unfair to single Innocent out. Other clients to review three times or more in the past six years include Axa, Confused.com, Diet Coke, Gumtree, Holland & Barrett, Nationwide and Westfield.
Should agencies entertain the thought of working with clients who review so frequently or steer well clear? Big agencies are now more likely to be careful before committing to a pitch, according to Chris Macdonald, the chief executive of McCann London.
"As agencies become more efficient, there are fewer people to work on a pitch, so we have to reassess our focus and look at things like organically looking after our clients, and we have to be more careful when deciding what to pitch for," he says. "I subscribe to the view that, unless it's a really
coherent pitch, run properly, then I'm out. To be fair, I do think most of the 'proper' client pitches, run by senior marketing professionals or intermediaries, give you faith that there is a fair process in place."
Macdonald says his agency has turned down "three or four" new-business opportunities this year on this basis. McCann also took the hard decision not to repitch for B&Q (which last week appointed Karmarama) to concentrate on servicing its other clients.
Paul Phillips, the managing director of AAR, argues that good agencies have a three-point checklist that they go through before deciding whether to pitch. This involves "good people, good work and good money". He suggests that if agencies can tick two of these three boxes, then they will generally pitch. If, say, a prospect seems like a good, fair client and provides the opportunity to create good work, then an agency might well go ahead even when the remuneration is not the best. Agencies should beware, though, Phillips warns, in the case of being unable to tick two of these boxes.
On the whole, observers believe that examples of "clients behaving badly" are isolated. One or two say that, in addition to the factor of the short tenure of some marketing directors, the fast-moving pace of technology and economic factors mean that clients are moving towards shorter-term, tactical relationships – especially in sectors such as gaming and entertainment, where marketing and advertising support specific launches that need tactical campaigns.
In an ideal world, agencies would eschew such opportunities for long-term, strategic relationships. But the reality is that clients will always find some agencies willing to pitch, no matter how they behave.