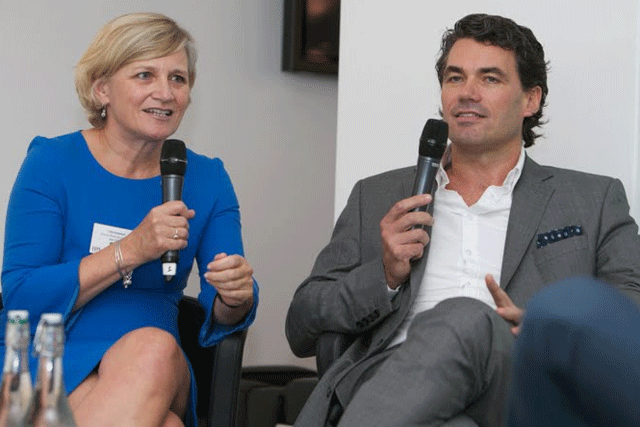 Speaking at the IPA's Adaptathon event at Altitude London, for which Marketing is media partner, Patterson was joined on stage by AMV BBDO chief executive Cilla Snowball.

The Adaptathon's host for the day, broadcast journalist Evan Davis, asked: "Do your eyes ever stray from Cilla, Gavin?"

Patterson claimed not. "We have a fantastic relationship that started before I started at BT," he said. "In the last 10 years there has been only one difficult moment. My recollection is that AMV tried to ditch us."

Snowball acknowledged that the issue was to do with conflict but was quickly resolved "because of the strong relationship".
The key thing is to ensure that marketing is not dominated by the procurement process

.
Davis quizzed the duo on procurement, asking whether BT's procurement included marketing services.

"Absolutely," Patterson said. "There's no reason why you can't have a strong procurement process. The key thing is to ensure that marketing is not dominated by the procurement process – that the factors to make a decision are properly weighted and price is not the dominant factor."
Both Patterson and Snowball insisted that strong, long-term relationships benefited agency and client and that it was in an advertiser's interest to encourage its agency to flourish.

"One of the things with relationships is that if you take a long-term perspective, an agency can attract talent to work on your business in the long-term," Patterson said. He added that that would be problematic were a client to be changing and destabilising an agency every few years.

His point was echoed by Tim Male, head of marketing at Lloyds Banking Group. "Any client would want to get as best a deal [on price negotiations] as possible," he said. "But as Gavin was saying, we are in a relationship where we want our agency to succeed as well."
Successful relationships
Ian Priest, IPA president and founding partner of VCCP, announced the launch of the Adaptathon back in June at the Cannes Lions Advertising Festival.

The day saw a variety of clients and their agencies, including John Lewis and Adam & Eve/DDB, taking to the stage to discuss what made their relationships so successful.

Dominic Grounsell, marketing director of personal at RSA and ISBA chair, and Stephen Maher, CEO-founder of Maher Bird Associates and chair of the Marketing Society, joined Davis on stage to discuss how agency-client relationships should be long-term, and not subject to constant pitches.

"I don't think many clients enjoy pitching," Grounsell said. "The risk to managing your organisation and reputation is huge. If you choose the wrong agency partner in a pitch then it reflects poorly on you.

"We agree with Ian [Priest] that pitching is not something that you do willy-nilly, off the cuff, it should be considered."

Commenting on the IPA's inaugural Adaptathon, Priest said: "It's great to see not just agency people here, but clients, intermediaries and media – a whole cross-section.

"The lifeblood of the industry is creativity," he added. "Adapt for better commercial creativity. But if we adapt on our own as agencies, we are not going to be as effective. What we're trying to do is evolve.
"There are a lot of things we're doing right. But we need to evolve. Why? Look at us as an industry, we've pretty much run the same model for decades. At the heart of this is reshaping the business model. But how do we do that?"
Yesterday's event (3 October) was the first of five Adaptathon's to take place over 18 months. Other speakers included John Kearon, chief executive of research firm Brainjuicer, and Professor Julie Hay, who addressed delegates on how psychological insights could help nurture better relationships between agency and client.