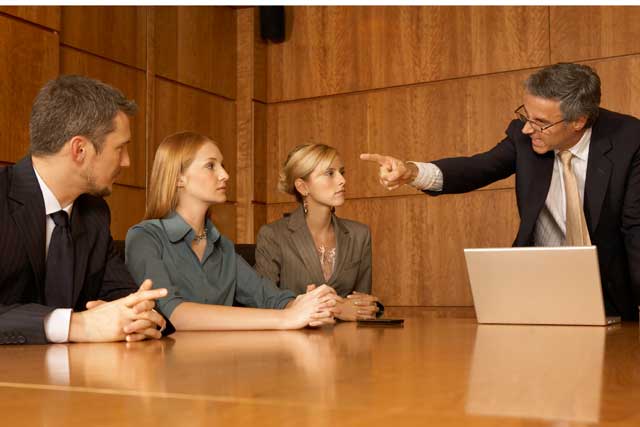 In an ideal marcoms world, marriages between agencies and clients would be beds of roses and pitch consultants would be out of business. But it isn't and they aren't.
In fact, it's hard to see intermediaries swelling the jobless figures when new research indicates that 25 per cent of marketing directors are either dissatisfied with or indifferent to their current agencies.
Taken at face value, the findings by the monitoring research company Grupo Consultores UK would suggest that the number of underwhelmed marketing directors is worryingly large.
However, few people believe the research has unearthed evidence of a widening fault line in agency/client relationships.
"You can never please everybody, but to suggest 25 per cent of clients are unhappy isn't true," Juliet Blackburn, the Grupo Consultores UK managing director, says. "Only 7.6 per cent actually claim to be dissatisfied."
What has changed, though, is the complexity of the relationships, resulting in a greater risk of schisms occurring.
"Clients and agencies have always moaned about each other and I expect that, had the research been conducted ten years ago, the result would have been broadly the same," Kerry Glazer, AAR's chief executive, says. "It's just that now everything is more complicated."
The days are long gone when creative agencies' output was confined to print and TV. Today, they are having to multitask for their clients. And that could mean anything from creating a Facebook page and running a social media campaign to putting an ad on YouTube and exploring partnership opportunities.
"Agencies are doing more projects than ever for clients," Glazer points out. "But that also means higher numbers of potential flashpoints in a relationship."
This is borne out in the Grupo Consultores research, which finds that, although lack of creativity and effectiveness, poor service and high costs are cited by clients as reasons for switching agencies, "there is no one thing that leads to the problem".
Having experienced first-hand some of that dissatisfaction, Glazer agrees. Some clients get angry at being caught in turf wars between roster agencies that inhibit collaboration, she says. Others resent working with a network foisted on them by their global masters.
Dissatisfaction can sometimes be fuelled when a much-valued agency account director resigns or gets moved off the business. And resentment can fester if a client feels their agency is neglecting them as it focuses too heavily on new business.
Debbie Morrison, the director of consultancy and best practice at ISBA, which encouraged its members to take part in the research, suggests the number of clients seemingly unimpressed with their agencies may indicate the maturity and sophistication of marketing communications in the UK.
While 73.8 per cent of UK clients taking part in the survey declared themselves satisfied with their agencies, the figure jumps to 81.7 per cent in Brazil and 88.6 per cent in Spain, according to Grupo Consultores UK.
"Not only is our market more mature and demanding, but we live in tough times and the results are a reflection of that," Morrison says.
In the end, it may be that the dissatisfaction among some UK marketing directors is just a manifestation of pressures being piled on them.
"Our marketing has to work like never before to convert into sales and profitability," Matt McDowell, Toshiba's marketing director for Northern Europe, says. "That's bound to impact on agency relationships."
INTERMEDIARY - KERRY GLAZER, CHIEF EXECUTIVE, AAR
"There have always been dissatisfied clients and there are many reasons for it. However, a lot of it has to do with the day-to-day relationships between agency team and client.
"We have been talking to a client with a £40 million budget spent through a highly respected agency. He doesn't want to review, but is concerned about its preoccupation with new business. When he raises his concerns, things improve for a while then slip again.
"However, dissatisfied clients must also look at themselves. Is their team so junior that it becomes difficult for the agency to do its best? Are briefs properly thought through?"
RESEARCHER - JULIET BLACKBURN, MANAGING DIRECTOR, GRUPO CONSULTORES UK
"Suggesting that 25 per cent of clients are not impressed with their agencies would be a very negative interpretation of our research.
"Of course you can't please everybody, but almost three-quarters of clients questioned are happy. Most of the others are neutral about their agencies and less than 8 per cent say they are dissatisfied.
"The fact is that clients don't change agencies on a whim. It's a big consideration because of the time it takes and the costs involved.
"Seventy-five per cent client satisfaction should be a cause for celebration. It means we remain at the creative centre of the world."
AGENCY HEAD - BEN KAY, JOINT CHIEF EXECUTIVE, RAINEY KELLY CAMPBELL ROALFE/Y&R
"The fact that less than 8 per cent of clients are dissatisfied is pretty good going in an industry that's so competitive and where relationships are so easy to start.
"What's more worrying are the underlying causes of dissatisfaction. The main reasons for it are lack of creativity and innovation, which will be increasingly difficult for agencies to deliver because procurement has become so aggressive.
"My concern is that dissatisfaction will increase because agencies won't be able to dedicate the time and resource to over-deliver in the way that they have historically done."
CLIENT - MATT MCDOWELL, MARKETING DIRECTOR FOR NORTHERN EUROPE, TOSHIBA
"I suspect a large proportion of the 25 per cent of clients saying they are either dissatisfied or indifferent are local marketers who have little autonomy because their account is globally aligned and managed elsewhere.
"The others are most likely to be those who like making it known they are dissatisfied to stop their agencies getting complacent.
"I don't believe it has anything to do with agencies doing more for clients and creating more potential flashpoints. If all you are producing are classic ads that don't work, you have nothing else to fall back on."