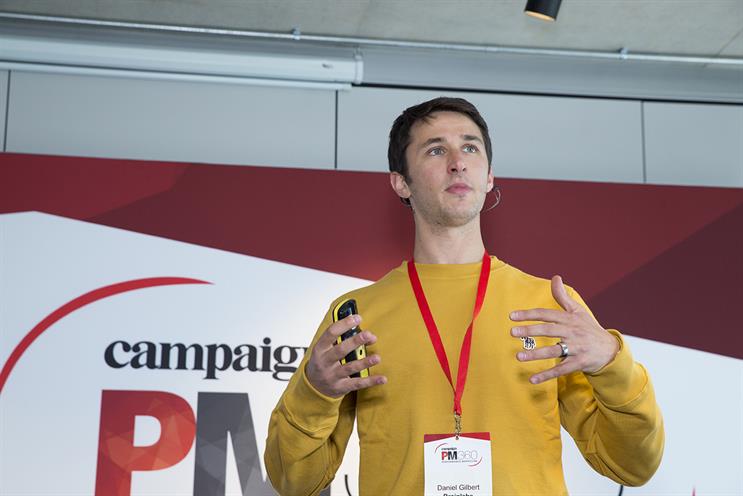 "There's a lot of navel gazing at agencies thinking about structures," said Daniel Gilbert, chief executive of performance marketing agency Brainlabs. "Client-centric is the way to go. No one is asking what the client really wants. Clients feel they have to pay for resource that doesn't benefit their business."
Agencies of the future should resemble a hive mind, a single agency brand an advertiser can consult for all their marketing and media needs.
Addressing an audience at PM360, Gilbert cited P&G marketing chief Marc Pritchard's widely-reported speech in which the FMCG marketer said clients don't want to pay agencies to navigate their own organisations.
Mad men and media agencies
To put today's media and marketing landscape into perspective, Gilbert took his audience back in time to when the UK's ad market was dominated by "mad men and media agencies", just three TV channels and only one of those carrying ads (ITV), when singular ad campaigns targeted audiences segmented into perhaps three groups.
He talked about how the traditional media environment led to a holding company structure, companies that "collect and hold assets", such as WPP and Omnicom. But it's a model that is becoming increasingly outmoded.
Since then, media fragmentation, splintered by the impact of digital, has led to disintermediation, a term referring to the tend today of clients dealing less with media agencies and more directly with the likes of Google and Facebook. This is fundamentally changing the way agencies make money, with the likes of biddable buying and programmatic also changing the dynamics of trading.
On the creative side of advertising, Gilbert discussed how the model has also shifted. "In a traditional scenario a brand might create two TV ads a year. It was essential to the success of a brand." But today search marketing campaigns might not involve any interaction with a creative agency, with brands "making their own ads and testing them at scale".
Agency of the future
"The agency model of the future reunites creative and media," he said. "There is no point in talking about them separately, in terms of separate entities, delivered by separate teams or structures within different models."
"Clients don't care about the different agency brands," he said. "They want single brands. The model has to be built around the people who pay the bills and can tap into what they need. If they want to in-house certain parts, then great – in-house certain parts. If they want to buy added services, let them buy services.
"It's all about creating easy ways for clients that buy to help them scale and plug into the bits they can't do as well."
The session…
It's time to reunite creative and media with Daniel Gilbert, chief executive officer of Brainlabs took place at PM360 in Brighton in May.
Brainlabs is a world leading performance marketing agency with a focus on data and tech. For more information about Brainlabs, please visit here