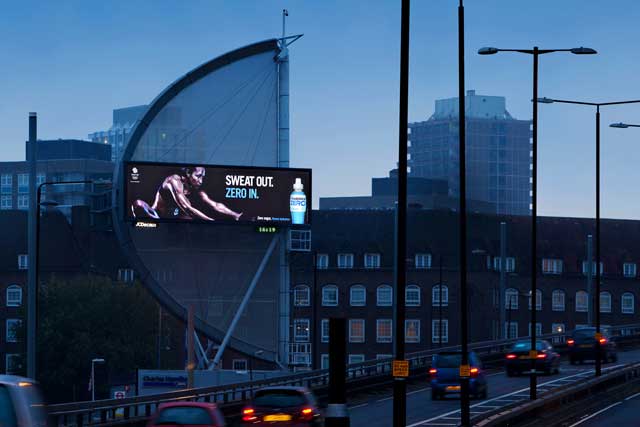 The London 2012 Olympics, or the London 2012 Social Media Olympics as more switched-on commentators are insisting on calling it, will be upon us in about two shakes of a lamb's tail.
We know this not because the chairman of Locog, Lord Coe, was planting an oak sapling somewhere last week. Or because a Busby Berkeley-style chorus line of bearskin-wearing guardsmen appeared as if by magic and began camping it up on Horse Guard's Parade.
No. We know the Olympic Games are almost upon us because bookmakers have begun slashing the odds of a Unite-organised Tube strike starting on 27 July. Much in the manner of a world-class middle-distance runner, Unite's timing is immaculate. It never makes the elementary error of kicking-on early through the back straight but, instead, toys with you and makes its move out of the last bend, with the big prize beckoning.
Unlike, say, outdoor media contractors, who hit the front early in the ad industry's very own Olympic event - and are now, some argue, running out of steam.
To be fair (to borrow the time-honoured phrase of sports commentators), they had no choice. No city is awarded the Games without its outdoor contractors promising to auction Games-related inventory in a manner that protects the interest of officially recognised Olympic sponsors - and the London process began back in April 2011.
But the theory was that, with plum inventory accounted for, there'd be a trickle-down effect, with general demand significantly outrunning remaining supply as the Olympics approached. Because everyone would surely want to have campaigns running during the Games - a situation that would benefit not just outdoor but the media market as a whole.
And indeed, last week, on the basis of strong May bookings, STV was predicting a good summer for itself and for the ITV network generally. And, at a big event to preview its commitment to daily Olympics coverage, Telegraph Media Group was bullish too.
But, perhaps worryingly, there's also evidence of unsold Games- related outdoor inventory. Matthew Dearden, the chief executive of Clear Channel, would concur that there are "opportunities" still available, though he also has praise for the way that advertisers have been planning for the Olympics.
He adds: "There is plenty of potential for advertisers to take advantage of this summer of euphoria across the UK."
Spencer Berwin, the managing director, sales, at JCDecaux, also reminds us about a football tournament called Uefa Euro 2012. He says: "We are about to enter a summer of events where the nation, starved of good news, will be in the mood to party - and there is a huge opportunity for brands to stand out from iconic sites in London. Fears of over-pricing or being out-shouted or concerns that all the good stuff has been sold shouldn't overshadow the reality."
Glen Wilson, the managing director of Posterscope, says that we're likely to see some amazing outdoor activity - in London and other appropriate locations - from the main Olympic sponsors during the Games. But he also concedes that there's room for other advertisers to up their game.
He adds: "It's worth considering the wider opportunity for a summer of out-of-home, one that incorporates Uefa Euro 2012 and Wimbledon, as well as the Diamond Jubilee. There are still lots of opportunities for advertisers to be part of the zeitgeist in the most visible way."
However, Toby Roberts, the managing partner, strategy, at OMD, argues that this isn't a question that should be dominated by notions of supply and demand in the media marketplace. For advertisers, it should be about preparing to make the most of something far more subtle. He explains: "Come July, if the sun is shining, things are going smoothly and we're moving up the medals table, maybe we'll feel a bit optimistic after the austerity of the past few years. The advertiser that captures this will really be taking full advantage of the Olympics."
And Tim Bleakley, the chief executive of Ocean Outdoor, points out that the underlying signs remain very bright. He concludes: "The auction of Olympics-related outdoor inventory was not designed for the outdoor industry to sell at the highest price - and in that sense, we have been doing our bit for the Games. But whichever way you look at it, this is a big year for events - not just the Olympics but the Diamond Jubilee and Euro 2012. So there is no question that there will be an increase in demand."
NO - Spencer Berwin, MD, sales, JCDecaux
"In the world of outdoor, where we are set to have large audiences in this summer of celebration, there is outstanding value. Some may think all outdoor has been sold to the Olympic sponsors but that is very far from the truth."
MAYBE - Glen Wilson, MD, Posterscope
"This is an ideal time for any advertiser to take full advantage of the convergent capabilities that out-of-home offers, especially given the nation's likely hunger for real-time information, opinion and content during the Games."
MAYBE - Toby Roberts, managing partner, strategy, OMD
"The real opportunity is not to be found in analysing supply and demand in the media market. In this age of fragmentation, segmentation and hyper-targeting, it's to be found in capturing that great intangible - the national mood."
MAYBE - Tim Bleakley, chief executive, Ocean Outdoor
"The Olympics-related outdoor auction process created a situation where people believed everything had been sold at a premium. The truth is that strong opportunities still remain - but as each week goes by, another advertiser comes to the market."
Got a view? E-mail us at campaign@haymarket.com