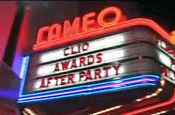 Festival organizers are offering 12 places for creatives to participate in a competition at the May jamboree.
The competition is open to copywriters and art directors under the age of 30.
On arrival at the festival, finalists will be paired into teams, and are given 24 hours to come up with an ad from a brief.
The field is whittled down to three, who then present to the client sponsor in front of an audience.
The winning creative team will be awarded a gold Clio plaque on stage at the awards gala.
The deadline to enter is April 1.
Apply for Ihaveaanidea competition