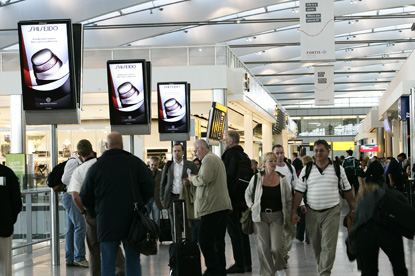 I found it reassuring on a couple of levels to read in The Economist last week that apparently face-to-face meetings and global business travel are more important than ever. Now, admittedly this isn't necessarily fabulous news for the environment, and of course I'm not entirely unbiased given what I do for a living, but on a personal level I still find it reassuring.
It's one of the oldest adages in the sales manual that "people buy people". Lately though I was beginning to have my doubts in an age of programmatic, bots, ad blockers, and fancy meeting rooms with state-of-the-art Skype facilities that no one really knows how to work.
The article highlighted findings from Morgan Stanley indicating that 63 per cent of American businesses increased their travel budgets for 2015, and a similar proportion would increase spending again next year. Admittedly part of the reason for this might indeed be the technical challenges in getting video-conferencing to function properly, but I think far more important is the connection and engagement that comes from a proper conversation between two or more people in the same room.
We recently filmed a few vox pop interviews with business flyers at Heathrow, and this quote from a senior sales person perfectly sums up the need for this kind of meeting: "It's absolutely essential. Within a sales environment it's the most important thing. Email is fine, WhatsApp is fine and all this sort of technology is fine.
"However, nothing ever beats standing in front of somebody, making eye contact and saying this is what we do, this is why we're good at it."
The airport interviews were part of the latest wave of our Business Traveller research which further endorsed the Morgan Stanley report. Apparently 79 per cent of frequent business flyers believe that face-to-face meetings are crucial for their business.
Of course, I'd be the first to admit that I've probably wasted months of my life in tedious status updates, and "paralysis by analysis" festivals of bar charts. But just maybe the proliferation of technology-facilitated alternatives to real conversation might possibly have reminded us of how powerful it can be if we get it right.
I think this is great news for all of us in this business. In my (very occasional) darker moments I sometimes wonder whether I'd be happy for my kids to follow Dad's lead and embark on their own so-called media career. None of them are currently shaping up to be programmers, mathematicians, or accountants, so will there be a long-term role for them?
As long as we're still meeting to discuss, debate, and pitch, and as long as they enjoy the buzz of human contact and communication with lively and inspiring individuals then I think the answer's yes. Although, to be honest, right now they'd probably still prefer to be a guitarist in a death metal band, or a professional showjumper.
Steve Cox is the marketing director at JCDecaux Airport