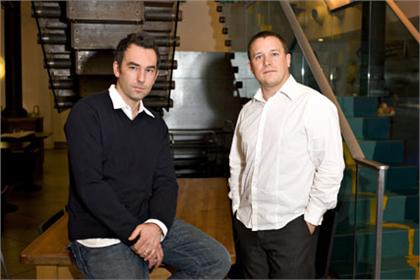 It's a shame that CHI & Partners isn't on the shortlist for the upcoming Carling pitch because, in Jonathan Burley, there's perhaps no-one who better epitomises the brand's current "you know who your mates are" positioning.
Last week, the agency's executive creative director revisited his past to add some old friends to his department, among them the Leo Burnett deputy executive creative director, Jim Bolton, and its former head of art Monty Verdi.
Others to join CHI as part of a major hiring spree were Tony Durston (also formerly of Leo Burnett), Chad Warner, the Rapp executive creative director, and McCann London's creative duo Neil Clarke and Jay Phillips, the team behind the "pourable sunshine" work for Heinz Salad Cream.
But for Burley, these appointments mean far more than simply bringing in a couple of old mates to have a laugh with - it was the culmination of almost a year's hard work in which the ex-Leo Burnett and HHCL man has aimed to redefine and reshape CHI's creative set-up.
Burley joined CHI last July, with the challenge of bringing the agency's creative offering in line with its strong account management set-up. CHI was always a good fit for him: like the agency, Burley doesn't like to take himself too seriously but will work tirelessly to ensure that his clients get exactly what they need.
And he found that what was needed was a creative department willing to take a more "hands-on" approach and filled with more positive, like-minded people.
"I've spent the past nine months looking at how I can create a 'feel-good factor'," Burley says. "I wanted to remind people that this is a fun job and that CHI is a fun place to work. And, most importantly of all, I wanted to create a structure that, from the top, was full of people who want to get on and make shit."
That's where his old mates come in. Burley goes to great lengths to underline that he hasn't - as he puts it - "poached any Burnett lifers". Instead, he says that he has hired people who "understand me and my way of working".
"These are people who I'd see as my people," he says. "People who have all worked together with me before to make some really good things. They're positive, friendly, enthusiastic people who are collaborative and understand the urgency of work - they don't take six months to do a poster."
Leo Burnett is keen to point out that Verdi and Durston actually resigned last July to go freelance. During their time at the agency, the pair between them shared some of Leo Burnett's biggest accounts, with Burley being so impressed with Verdi's eye for detail that he promoted him to the head of art.
Bolton, meanwhile, was the mastermind behind the creative resurgence at McDonald's. He actually first started working with Burley back in 1996 at HHCL & Partners, and the pair were brought to Leo Burnett together in 2006 by the agency's then executive creative director Jim Thornton.
"Jim (Bolton) is the most creative human being on the planet," Burley says. "What goes on behind his eyes frightens me, but he's not a maverick twat who wears comedy hats and Hoxton shoes. He's a down-to-earth, loveable, charming human being, who likes to get really deep with a client, understand them, gain their trust and then add some imagination and creativity to their brand."
From Bolton's point of view, the timing also seems about right for a new challenge. One source says: "Jim doesn't want to lead a department - he's too ingrained in the work. But at Leo Burnett, he's worked on a brand that he's now turned around, and it must all be getting a bit samey."
At CHI, Bolton will be given a similar opportunity to work closely with clients, but he'll be responsible for working across a broader spectrum of brands. He'll be joined on this level by Warner.
Described as a "bouncy, Tigger-like American", Warner is effectively a replacement for Thiago De Moraes, the former CHI digital creative director, who left last year to join Abbott Mead Vickers BBDO. While Burley admits that a part of Warner's role will still be to "bring the old gits up to speed with digital", he is keen to underline that he will be judged as much on output as his technical knowhow.
"I hate the term 'digital creative director'," Burley says. "Chad will be responsible for taking ideas and knowing instinctively what cool stuff we can do with them. It's not about him shoehorning digital work in for the sake of it, like that role sometimes tends to be."
When Burley joined CHI, he highlighted the opportunity to "build a creative department exactly how I want to" as one of the job's the main attractions. Having kept his head uncharacteristically below the parapet for the first few months, these hirings are his first public indication of the changes he's preparing to make.
"We're nowhere near done," he says, "but we've built a foundation; a structure where everyone is pushing in the same direction. Now it's about delivering the work that the briefs our clients give us deserve."
THE BOLTON PORTFOLIO
1997: Blackcurrant Tango 'St George'
2003: Domino's 'relax it's Domino's'
2007: Oxfam 'unwrapped'
2009: McDonald's 'passing by'