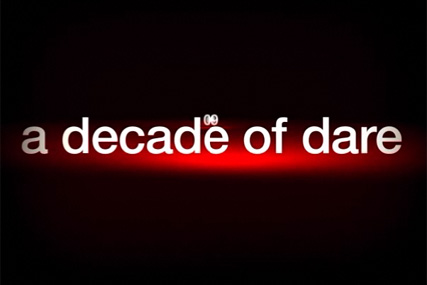 In many ways, the secret of Dare's past ten years lies in its first two. Not that they were a comfortable experience. Imagine a young (OK, 39-year-old) Mark Collier, the joint managing director of Bartle Bogle Hegarty, who, at the height of the dotcom boom, decided to start a digital agency.
Dare's philosophy at launch was "new media creativity, old media discipline". Collier doesn't like the sound of that much now but, in many ways, it describes Dare very well - a digital agency that, from the very beginning, was run like a proper business.
Within weeks, the dotcom bubble burst and the agency came down with a bump. "People say you launch an agency and lose the Ferrari - not that I had one," Collier says. In fact, there was a real danger that he might lose his house, which he'd remortgaged to finance the venture.
Did he doubt himself? "Sometimes, I did think I'd made a big mistake. We were definitely in survival mode, and there were plenty of times when we didn't know where next month's income was going to come from."
The agency did whatever it could to get the money in. At one point, its biggest piece of work was a £10,000 web-build job for Ronan Keating. But with only ten people - including Flo Heiss, the creative partner, who had joined six months after launch - they managed to cling on.
Key to getting the agency through this period were John Bartle, the Dare non-executive chairman, and Bob Willott, the non-executive director and financial mastermind.
The problems forced the agency into some key decisions. It beefed up its planning department with the hire of the now managing partner John Owen, even though the numbers did not support that kind of investment. And most importantly, it realised that it needed to move from a project-based to a retained agency business model.
Easier said than done, in a postdotcom-boom world in which digital had become a dirty word. But the plan worked: the agency won its first piece of retained business, Travelocity, in 2002.
The account paid an income of £15,000 a month. Hardly earth-shattering, but it was followed by Sony Ericsson, the AA, Wanadoo, Vodafone and more.
Retained, mutually respectful relationships with big blue-chip clients were what made Dare stand out in a market populated by digital agencies that looked like they would never move away from project work. Some are still yet to do so.
It's pretty clear that clients like what Dare does - the agency has rarely lost a piece of business, and many of its current relationships date back five years or more. Simon Gulliford, the chief marketing officer of Standard Life, who also worked with them during his time at Barclays, says it is Dare's commercial acumen that makes it stand out.
"Dare is the most commercially minded agency I have ever worked with in any discipline," he says. "They take astonishing amounts of care to understand your business and the industry you operate in, and they don't leap to obvious solutions. I just wish all the agencies I've worked with had been like that."
Dare may not like to dwell on this, but at least some of its success must be attributed to Bartle Bogle Hegarty. Not necessarily because of its financial support - the agency took a minority stake in early 2003 - but because much of Dare's ethos, particularly as regards people and culture, has broad similarities with the BBH of old.
The strength and depth of Dare's management team, which now also includes the managing partner Lee Wright, is unparalleled among digital agencies, and stacks up against the best of any shop. It has an enlightened approach to employment practices - two of the women on its management board work four days a week.
Bartle feels its culture is exceptional in the agency world. "They've managed to turn one of the biggest cliches in the business - that it's 'all about people' - into a reality. It's now a very sizeable agency by anyone's standards but it's still got the same heart and soul."
If question marks do exist, they concern the agency's creative firepower. Collier cites Axe "blow" and "feather", the "Martin Parr" campaign for Sony Ericsson and the Vodafone "all your mates in one place" work as highlights. But he admits the agency lacks a piece of standout work that defines it creatively.
"I don't know any digital agency that has one of those," he says. "That's not the nature of the beast. There are so many layers to digital campaigns."
He may have an argument: AKQA's "Fiat eco:Drive" is probably the only UK digital campaign (or tool, in this case) that has made genuine waves that lasted much beyond the lifespan of the work.
But there are plenty of non-UK campaigns that have, and the past few years at Cannes in particular have thrown up some corkers. Dare, while enjoying plenty of success at Campaign Digital over the years, has never troubled the Cannes jurors much.
In 2007, the agency was sold to Cossette, the Canadian advertising group, in a £30 million deal. Last week's news of a proposed merger with its sister agency MCBD - which broke, symbolically, on the day Dare turned ten - now looks set to define its next decade.
It's not a subject on which any of the parties are willing to be drawn. But insiders say it's a deliberate attempt to avoid an "Engine-style" group model by merging digital and advertising to create a single agency that can service clients from big brand idea, through to advertising, through to website build and e-commerce.
If the deal goes through, it could create something of a unique proposition. And it might just be proof that the nice guys can finish first in this advertising game, after all.
A DECADE OF DARE
Launched: 1 July 2000
First name: The Engine Room - a problem with registering the URL meant it launched as Dare Digital
First client: The British Television Advertising Awards
First big campaign: Yell.com's pop-up cartoon interstitial ads. The first digital ad to get Pick of the Week
First Campaign: Digital Agency of Year award 2003. Then won it again in 2004, 2005 and 2007, and was named Digital Agency of the Decade
Top five-spending clients: Sony Ericsson (a client since 2003), Vodafone (2005), Standard Life (2009), Barclays/Barclaycard (2001), Nestle (2010)
The numbers: Nearly 200 staff, annual income of £16.5 million on around £2 million profit.