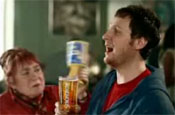 At last week's British Television Advertising Awards, the director Chris Palmer was heralded for the gold he received in 1986; a year when iconic ads of the 80s, such as Toshiba "FST 2" and Levi's "laundrette" and "bath", were only deemed worthy of silvers.
Is this an insight into how times have changed? Twenty-one years on and Mother's reincarnation of Monkey for PG Tips, DFGW's digital return of Elvis for the BBC and Fallon's visual feast for Sony Bravia deservedly earned accolades. Yet there seemed a sense of deflated expectation. Jeremy Craigen, the DDB executive creative director and the BTAA jury chairman, described some early submissions as "boring". Advertisers, he said, were "arrogantly" assuming their ads would be watched, rather than commanding the audience's attention. Marc Sands, the marketing director of The Guardian and a juror, said: "It's turned a bit like the US, where the top five ads are amazing, but 98 per cent is frightfully dull."
However, Peter Bigg, the BTAA administrator, believes nostalgia makes people softer on the ads of old. "People have very strong memories of what they see in their former years," he says. "Even in 1986 there would have been doommongers saying those ads were not as good as the days of Ridley Scott and Hugh Hudson. Bravia and PG Tips could well be the ads we look back on in 20 years' time as the benchmarks of TV creativity."
The media explosion means TV ad-reach has changed since the days of two channels. An Ofcom study predicts multichannel's share of the advertising market could double by 2014. It is a fact that Robert Campbell, the creative partner at United London, points to for the decline of "big set pieces" such as Fallon's "balls" and Saatchi & Saatchi's "Old Lions". "As you have a proliferation of media, the consumption of advertising has become a private, rather than a public, event," he says. "Great as they are, ads like PG Tips and Sony Bravia will never gain an emotional place in the heart of a nation, because they are never seen in the way they were in the 80s."
Yet there is no doubt TV still has a place on most advertisers' wishlists. Last year, the BACC recorded 52,000 submissions - a rise of more than 260 per cent from 1996. The increased number of channels and cheaper media space means cut-through in the TV market is harder than ever for advertisers now.
Dan White, the director of communications research at Millward Brown, believes this is partially responsible for advertising carrying more strategy objectives than before. "Ad strategies have become more complicated as the market gets more competitive, which can lead to a less inspiring creative brief," he says. "We've moved into an era where we've got to come up with much more simple and more powerful ideas."
The last word should go to Palmer, who scooped the Chairman's Award last week, 21 years after winning gold for his Levi's "airport" spot. "I'm sure clients like Levi's worried about the same stuff in the 80s that they do now. But agencies had the leadership of maverick characters that had the balls to sell their vision," he says, attributing Mother's BTAA success this year to the vision of its independent status and its creative partner, Robert Saville. "Nowadays, the climate is much more cautious and conservative. It used to be about going out and making a great ad. Now, it seems to be more about not fucking up."
- Got a view? E-mail us at campaign@haymarket.com
CLIENT/JUROR - Marc Sands, marketing director, The Guardian
"The advertising community is very vibrant when you show it at its absolute best, but 98 per cent of British television advertising is frightfully dull.
"The moving image is still important, but the contract of selling on television is changing, as is people's relationship with television advertising. Plus, for marketers, there are now other ways to spend money that have accountability and are provable.
"A complicated strategy is part of the old world. At the moment, the best ads are those which are the most fantastic amplification of a single point. The creative attitude now should be 'don't wrap something in advertising, let it be what it is'."
CREATIVE DIRECTOR - Steve Henry, creative director, TBWA\London
"Does worrying about television advertising really matter any more? Aren't we moving into the new digital world?
"Well, not quite. A lot of the better creative talent (of which this industry has bucketloads) is focusing on interactive stuff, which will always bamboozle awards juries, but the ability to write entertaining short form is massively important.
"The problem is that we're going through a watershed. In five years' time, marketing will be focused around entertainment and content, and the right creative talents will be engaged. Right now, it's the last flurry of people trying to bolt ugly hard sell on to the mix."
CREATIVE PARTNER - Robert Campbell, creative partner, United London
"Agencies have to get over the fact that the television medium is not what it used to be. The heart of media is now the computer, as opposed to the television screen.
"Television used to be a collective event. Nowadays, media is consumed in different places, which has led to a reduction in the importance of above-the-line TV. Plus, production budgets have shrunk, as have agencies' spend. The net result is that the ads are not as great as they used to be. In the 80s, we existed to make TV commercials, now it's just part of a wider media strategy.
"The awards system needs to change, too. We should find ways of awarding brand ideas that are multidisciplinary."
PRODUCER - Lizie Gower, managing director, Academy Films
"I can remember many years when people said the quality of work hadn't been as good as previous years. But people look back fondly on the ads they remember, whereas the current ads are always the ones that are judged harshest.
"We should remember we saw some fabulous work at the BTAA across a range of categories. In addition to the winners, direct response, like the NSPCC ads and the virals from JWT, are examples of strong creative ideas that are well executed.
"Over the years, the format of commercials may have changed from the heavily dialogue-led or comedic, but that's just advertising evolving, rather than getting worse."