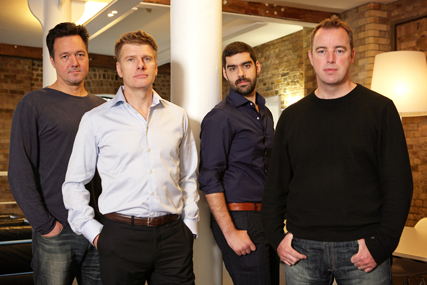 Creatives need to work in an environment that allows for individual expression. If you have ever laid a new wooden floor, you will know that it is made up of individual boards that flex over the seasons.
If too tight a structure is created, individual pieces become constricted and too rigid, resulting in cracks and stresses. In my opinion, the best organisation allows for such flex and fluidity.
Restructures are a last resort. They are disruptive and can be difficult to understand and embrace. We are in exciting, pioneering times and the structure of the creative department needs to empower and it needs to flex.
In short, the answer is a forever moving target, and for me the design that works best is when we embrace what we create together.
Creatives enjoy a framework that enables them, helps them to realise their creative solutions and ensures they are inter-related at all key levels.
The way that we work today may be suited to present-day needs, but I think it is important to continually challenge our own assumptions.
At Abbott Mead Vickers BBDO, rather than stick to the old-fashioned formula of account team and creative team, we've put together a tight creative taskforce with the people that can come up with lateral answers, be it a social media expert, an events planner, PR thinker or creative, which enables us to be more fluid and agile and work at speed, allowing us to create a unique solution for each client.
This means we have all the right people in the room at the start with the client, to look at the bigger picture and draw a future for their brand.
For example, with Walkers "Sandwich" we were originally given a tactical promotion brief, which we then turned into a cultural phenomenon.
We did this by pulling together a cross-agency taskforce that included PR, media, creative and production experts, who approached the whole project as if they were launching a film. In effect, they hyped it with blogger outreach and Twitter feeds.
They released it via TV, PR, internet and an extras DVD. Then finally they merchandised it with in-store activation. The campaign was such a success because everyone who was involved from all different disciplines shared a real excitement and commitment to the idea from the very beginning.
Even though we are not heavily process-driven at AMV, we recognise that we have been evolving creatively for a long time and it is only now that we are formalising our approach and giving it a framework to support what we've been doing intuitively for some time.
In addition to my leadership and the active support of my deputies, my head of copy and heads of creative services, we have more than enough assignments - across 77 brands - to extend the influence and authority of talented senior people.
That's why our new creative partners, Steve Jones, Martin Loraine and Thiago De Moraes, have been put in place - because they have the vision to spot the right talent, work collaboratively with clients and, most importantly, create and build the right chemistry across the teams.
They constantly think about the shape of the department to ensure that we get the best out of everyone and that we move with our ever-changing client needs.
In hiring Nick, Nadja, Richard, Ian and Adam (see box), we are bringing even broader skills into the mix. That will help us build more successful media-neutral campaigns, all with true entrepreneurial spirit and passion for their work.
And so, in an ambiguous world where the next Twitter is always on the horizon, we are hoping to have created an open, dynamic and agile environment for the creation of ideas that can change behaviour with the fast-changing world.
Paul Brazier is the executive creative director of Abbott Mead Vickers BBDO
TRILLION DOLLAR TEAM
Earlier this month, AMV hired Nick Hulley and Nadja Lossgott, the most awarded creative team at Cannes in 2009, from TBWA\Hunt\Lascaris, South Africa. The pair have won a black Pencil, a Cannes Grand Prix, two Grand Clios and four One Show Pencils for The Zimbabwean "trillion dollar" campaign.
AMV has also brought in Adam Whittaker, Ian Gabaldoni and Richard Baynham to the creative department. Whittaker has been working as a designer and photographer based in London and New York for 15 years, as well as working at agencies including Fallon, Wieden & Kennedy, Saatchi & Saatchi and Mother. Gabaldoni and Baynham have been a creative team for 20 years, having worked at Grey, Saatchis and JWT.