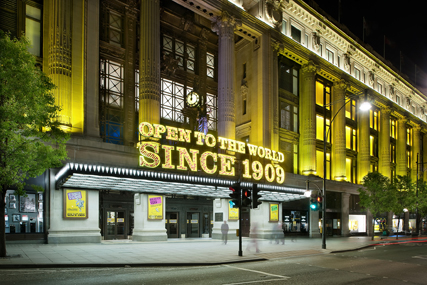 The main protagonists in the advertising battle of the high street have largely and historically been confined to supermarkets, but all this looks likely to change as mainstream retailers are also increasingly entering the fray.
In recent months, Selfridges, Superdrug, New Look and Matalan have all hired new agencies to develop fresh advertising strategies, while other fashion retailers including John Lewis, Very.co.uk and Debenhams have launched high-profile ad campaigns.
So why is this the case? Tony Quinn, the head of planning at JWT, which handles the Debenhams account, says that it is the enhancements in technology and changes in the economy that have really caused the retail landscape to change.
Over the past decade, fashion in particular has become a fast and affordable commodity with discounted fashion brands such as Topshop and New Look turning around designer looks so quickly, even the designers themselves are finding it hard to keep up.
Equally, with Christmas approaching, a promised rise in VAT in January, cotton prices at an all-time high and, most potently, the growing competition from online retailers, high-street stores are finding that they are facing threats from a number of fronts. They must be hoping that the advertising industry will provide them with some sort of panacea.
Those retailers that may have previously created their advertising in-house or been associated with sales promotion agencies, such as Matalan and New Look, have looked to raise their creative game with the appointments of Bartle Bogle Hegarty and Mother respectively.
Craig Inglis, the marketing director at John Lewis, which uses Adam & Eve to handle its ad account, thinks the key to success is that agencies need to be fleet of foot in order to keep up with the fast pace of retail.
He says: "It's not about whether an agency is big or small, it's about whether they actually get fashion," he says. "A client/agency relationship will rely more on a deep understanding of the fashion market and whether agencies have the agility to turn things around quickly."
The ability to turn around advertising quickly - whether it be for specific promotions or for fast-fashion limited editions - is one of the reasons why, historically, many retailers have created their advertising in-house. After all, the theory goes, why spend time briefing and working with external agencies when you can do it quickly yourself?
But whereas press ads, shop windows and in-store activity (the forte of in-house marketing teams) used to be enough for retailers to drive footfall, the challenge has become more complicated, with retailers now realising that they also need to start building their brands to protect their position against the threats they face.
Jonathan Trimble, a managing partner of 18 Feet & Rising, which has just been awarded the Selfridges ad account, says that retailers are turning to ad agencies as they can offer greater traditional brand awareness. "In a world that is limitless, you tend to shop somewhere you know," he says. "What advertising agencies can do is make sure your brand is what people know."
Obviously, building or reiterating the strength of a brand is a more lengthy and complex process than simply promoting a price proposition. Because of this, retailers are also looking to advertise their brands on mass-media platforms, with television being a preferred option. Nick Hurrell, a partner at HMDG, which works on Superdrug, says: "TV is a breakthrough medium. If retailers are substantially raising the game, then they'll use TV as it's the thing that catches your eye the most."
Because of this, Jane Exon, the head of marketing operations at Debenhams, says, what retailers now need from agencies is "great creative ideas that differentiate our message from those of our competitors. Customers need a reason to shop which may be emotional as well as price-driven, and an agency is best positioned to provide this thought, because they can draw on experiences from other sectors that they have worked in for years."
"Retailers now want their brand to stand for something," Dylan Williams, the strategy director at Mother, adds. "They have an increased desire to have conceptual thought at the heart of the brand. The key is to look at the culture of the business first and then look at the communication."
John Lewis, for instance, has owned the "Never knowingly undersold" positioning for 85 years and Inglis, who resurrected it in its advertising after a hiatus, is left in little doubt of the benefits. "We have a fundamental principle that we stick to which represents what we stand for, which is made exciting and inspiring for our consumers," he says.
The challenge now is for those ad agencies to create a similarly credible brand positioning for the retailers that have found themselves without.
JOHN LEWIS
Earlier this year, John Lewis launched its biggest marketing drive to date, based on its 85-year-old "Never knowingly undersold" proposition.
The positioning covers not just price-matching but also a commitment to value and to assure consumers that John Lewis' own brand products offer the best quality for the price in the market. The TV ad, through Adam & Eve, showed a woman growing up, weaving in the John Lewis promise as she builds a home and family.
The store then promised last month to price-match products sold online by competitors, including during sales, as long as those competitors also have a high-street presence. Consumers can also submit price-match claims via johnlewis.com, for the first time since the website launched in 2001, as well as in-store.
VERY.CO.UK
As competition from rivals online and on the high street grows, Very.co.uk has launched a TV campaign, created by VCCP. The ad, called "out of the ordinary", shows encounters from a woman's day-to-day life, which have been enhanced thanks to the outfits she's wearing courtesy of Very.co.uk. The ad ends with the line: "Very.co.uk. No ordinary department store."
Also featured in the spot are Very.co.uk's celebrity designers Fearne Cotton and Holly Willoughby. VCCP's group head of planning, Sophie Maunder-Allan, says: "Like most online retailers, the brand needs to stand out and have an even stronger point of view as it doesn't have that high-street presence. It aims to have the same confidence that brands like John Lewis have, so that consumers know instinctively what the brand is about."