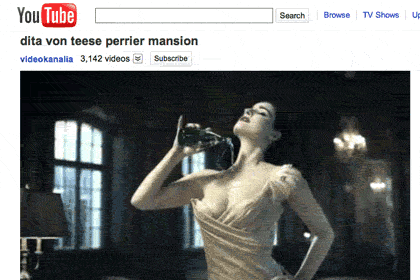 Task: Put the fizz back into the globe's most iconic fizzy water.
Execution: A viral during which the burlesque legend Dita Von Teese lures viewers inside the Perrier mansion to get them hot under the collar. We are given the option of two doors, one called The Dark Room and the other Roll The Dice, where we can view titillating footage of the stripper. The viral ends with Dita dousing herself with sparkling Perrier, seductively rubbing it over her breasts.
Credits: Ogilvy Paris.
Why I like this: Sex sells. It always has and always will. And there is no sexier bottled water than Perrier. The clever choice of Dita as the star of the viral single-handedly puts the sex back into Perrier after years in the bland brand wilderness. Not only does she recall the glamour of Perrier's mid-century past and the Perrier pin-up posters of Bernard Villemot, Dita is the iconic Perrier bottle made flesh.
Given that our prudish clearance culture means sex and sensuality are taboo on TV, Perrier is using online distribution to bring the full glory of its creation to the hearts, minds and other parts of mineral water drinkers everywhere.
While the film itself is not the finest flowering of creativity, this campaign marks a real turning point where channels such as YouTube are used to engage consumers with brands using more adult themes. I'll drink to that.
Wish I'd thought of: Differentiating bottled water with powerful iconography, not how many bloody volcanoes it has been through or its ability to encourage pre-schoolers to roller-skate.
Don't forget to enter your best YouTube ads into the YouTube Ad of the Year competition, being hosted in partnership with the Campaign Media Awards. Entry is free. Find out more here