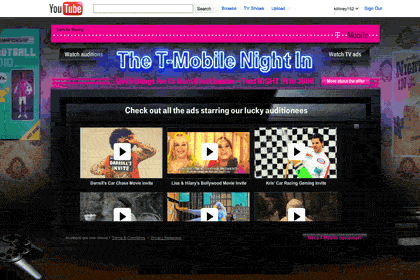 Task: Promote T-Mobile's latest loyalty offer in partnership with Blockbuster, entitled Night In, in support of a TV ad campaign.
Execution: The TV campaign shows members of the public inviting friends and family round for a "night in". To star in the ad, they auditioned online. A YouTube-branded channel provides the mechanism, whereby wannabe ad stars upload a video audition in their chosen film or game genre.
Credits: Saatchi & Saatchi London, Media Monks.
Why I like this: The campaign idea fits perfectly with the chosen media channel. The strapline "Life's for sharing" partnered with an offer to watch DVDs or play games, alongside content that is user-generated in a medium that is all about sharing, is being true to the brand platform at every stage.
Giving viewers the opportunity to audition on YouTube fits perfectly with YouTube's raison d'etre. The fact that all the content is housed on YouTube also recognises the importance of the medium to the target audience.
The Blockbuster offer, five things for £5, is a good alternative to the Orange Wednesdays cinema promotion by one of T-Mobile's biggest rivals.
Wish I'd thought of: This channel shows T-Mobile's real understanding of where its consumers spend time online, and an ability to incorporate the elements of that medium into the creative structure of the ad.
But, that said, T-Mobile has missed an opportunity with YouTube search. The term "Blockbuster" brought up a myriad of things and "DVD offers" wasn't much better.

Don't forget to enter your best YouTube ads into the YouTube Ad of the Year competition, being hosted in partnership with the Campaign Media Awards. Find out more here