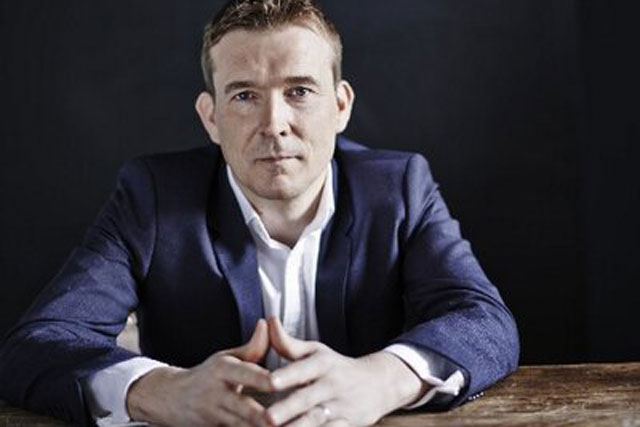 But David Mitchell, author of Cloud Atlas, didn't take to the social network for the fun of it - he did it to publish his next novel.
'The Right Sort' is a short story, written in 140 character instalments, that has started being published today on the @david_mitchell Twitter account.
The story, which is set in 1978 and follows the story of a teenage boy who discovers valium, will be published in a series of 20-tweet instalments over the next seven days.
Mitchell admitted to the BBC that it is in fact a marketing ploy to promote his new novel, 'The Bone Clocks'.
But that doesn't really matter – he's publishing a story for free on Twitter, and it is an excellent way to build anticipation.
Author: David Mitchell
Publishing platform: Twitter
Read the first instalment here:
We get off the Number 10 bus at a pub called 'The Fox and Hounds'. 'If anyone asks,' Mum tells me, 'say we came by taxi.'

— David Mitchell (@david_mitchell) July 14, 2014
'I thought lying was wrong,' I say. Butter wouldn't melt in my mouth. Mum gives me a look. 'It's called "creating the right impression".'

— David Mitchell (@david_mitchell) July 14, 2014
A lorry rumbles by. 'Besides,' adds Mum, 'if your *father* paid what the judge told him to pay, on time, we would travel more by taxi.'

— David Mitchell (@david_mitchell) July 14, 2014
Westwood Road's not a run-down road, but it's hardly posh either. Joined-up red-brick houses, like ours. Small drives. Dustbins.

— David Mitchell (@david_mitchell) July 14, 2014
Not like you'd expect a Lady to live in. 'Right,' says Mum, double-checking the directions she wrote on an envelope. 'This way.'
— David Mitchell (@david_mitchell)
July 14, 2014
'So we're looking out for an alley called "Slade Alley",' says Mum. 'On the left. And mind the puddles.' Off we trudge.

— David Mitchell (@david_mitchell) July 14, 2014
It's a grey afternoon. Rain's forecast for later. Through a front window, I see wrestling on the telly. Mum walks ahead. I follow.

— David Mitchell (@david_mitchell) July 14, 2014
I hope to God nobody from school sees me in this tweed jacket and tie Mum bought me from Littlewoods. I look like a total ponce.

— David Mitchell (@david_mitchell) July 14, 2014
If any of Gaz Townshend's lot catch me dressed like this, life won't be worth living come Monday. His gang shits on me enough as it is.

— David Mitchell (@david_mitchell) July 14, 2014
It's all very well for Mum to say, 'You shouldn't care what people think': kids have laws and if you break those laws, you're dead meat.

— David Mitchell (@david_mitchell) July 14, 2014
(No point telling Mum about getting picked on: she just sighs and says, 'You should have passed the scholarship for King's, Nathan.')

— David Mitchell (@david_mitchell) July 14, 2014
Leaves blow down from an overhanging branch. There's more leaves off than there are leaves left. October. The clocks go back tonight.

— David Mitchell (@david_mitchell) July 14, 2014
Suddenly here it is: 'SLADE ALLEY' says the old-style sign, high up on the windowless side of one of two houses the alley cuts in between.

— David Mitchell (@david_mitchell) July 14, 2014
You can't see Slade Alley till you're smack bang in front of it. Dark. Dunno. It's like Slade Alley shouldn't even be here.

— David Mitchell (@david_mitchell) July 14, 2014
A real live Lady, married to a real live Lord, living down here? If you ask me, Mum's ballsed it up. Wouldn't be the first time.

— David Mitchell (@david_mitchell) July 14, 2014
'Lord and Lady Briggs's main residence is in Oxfordshire,' Mum tells me for the umpteenth time. 'This is only Lady Briggs's town house.'

— David Mitchell (@david_mitchell) July 14, 2014
'I didn't say anything,' I say. 'Good,' says Mum. 'Come on then, don't dawdle.' Her voice and footsteps echo a bit.

— David Mitchell (@david_mitchell) July 14, 2014
It's colder in Slade Alley than on Westwood Road. After twenty paces, the alley turns left, then carries on between two high walls.

— David Mitchell (@david_mitchell) July 14, 2014
'We're to keep our eyes peeled for a door,' says Mum. 'A black iron door. Lady Briggs said it's easy to miss.' You can say that again...

— David Mitchell (@david_mitchell) July 14, 2014