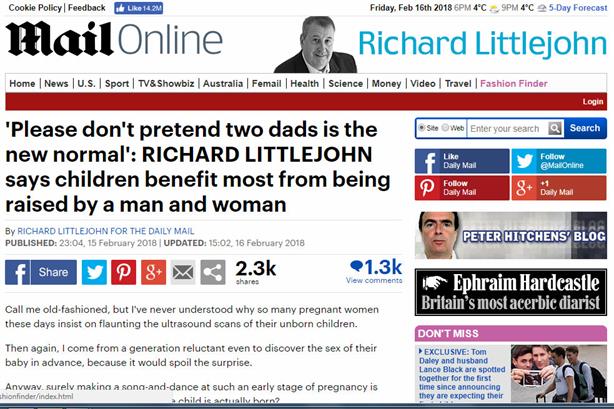 It follows similar statements on Friday by Center Parcs and the Southbank Centre. Those organisations said they were reacting to a recent article by Richard Littlejohn relating to Olympic diver Tom Daley and his partner Dustin Lance-Black having a child.
In a statement issued today, Club Med said: "Club Med has today taken the decision to suspend all planned advertising with the Daily Mail. It follows the publication of an editorial article that goes against our brand values, which welcome all families."
Contacted by Campaign's sister title PRWeek, a spokesperson said Club Med has "not had any direct dealings with the Daily Mail paper previously". It also said it has "removed MailOnline as a site for future activity".
In recent months, Virgin Trains, Pizza Hut Deliveries, Paperchase, Joy and Lego have all publicly distanced themselves from certain newspapers due to their editorial stance.
It follows the growing prominence of the pressure group Stop Funding Hate, which targets businesses that advertise in The Sun, The Daily Express, and the Mail.
A spokesman for the Daily Mail said: "Club Med do not advertise in the Daily Mail so they had no 'planned advertising' to suspend.
"We hope they have considered what message this attack on free speech sends to the millions of Daily Mail readers who might be considering booking holidays with Club Med.
"For the record, had any of the political zealots who attacked Richard Littlejohn's column actually read it they would know that he explicitly supports civil partnerships and the fostering of children by gay couples – hardly evidence of homophobia."
This article was first published on www.prweek.com and was updated on Tuesday afternoon with additional comment from Club Med, and later with a comment from the Daily Mail.