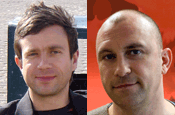 Taylor joins the agency from Saatchi & Saatchi, where he was the planning director.

In his new role at CMW, Taylor will be responsible for developing the agency's digital capabilities. He will report to the planning director, Ben Rachel.

Klippel moves to CMW from Proximity, where he held a similar role as technical director.

At his new agency, Klippel will be responsible for the day-to-day management of CMW's technical department.

News of the appointments comes shortly after the agency appointed Jamie Bell and Iain Hunter as its new creative directors.

Martin Nieri, the CMW managing director, says: "CMW has changed a great deal over the past couple of years.

"We have worked hard to attract the very best talent that our industry has to offer and we now have in place a senior team with the drive and hunger to really build on our recent growth and push our offering forward for the future."