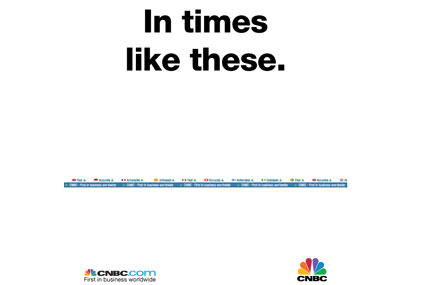 The campaign creative was developed in-house and booked through MPG, and aims to lure new audiences with taglines such as, 'Business from the front line' and 'In times like these'.
Activity will include TV, print and online, and will run pan-regionally in multi-market media, including The Wall Street Journal, Eurosport and ESPN America. Haymarket's Brand Republic will also be hosting online and print campaigns throughout 2010.
The print ads feature CNBC's recognisable on-screen 'ticker' and are jointly branded CNBC and CNBC.com to help promote the network's digital platform.
Charlotte Blenkinsop, vice-president of marketing and communications EMEA at CNBC, said: "CNBC has significantly grown its reach this year and this campaign targets key markets to emphasise CNBC's offering and attract new viewers to the channel."
A separate creative, highlighting the channel's increased availability, will run online on key business and financial websites in Scandinavia, Israel, Russia and Turkey. CNBC's pan regional programme Capital Connection will now be tri-anchored from Bahrain, London and Singapore.
The campaign is part of CNBC's strategy to grow its distribution across EMEA in 2010. The channel now reaches 130 million households across EMEA and has just opened a new editorial studio in Bahrain to cover the Middle East. CNBC launched on the subscription-free satellite platform Freesat in February.