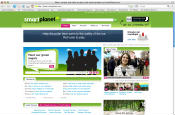 The site, which launched last week, allows users to compare similarly categorised products, such as organic food, ethical fashions and environmentally friendly cars.

SmartPlanet generates a product rating by comparing each product's green credentials, along with price and quality. The team behind the website initially launched it as a news blog three months ago, to establish itself in the growing market for green and ethically focused websites.

The BBC this week launches BBCGreen.com, a portal offering a range of content on environmental issues.

Under the direction of sales manager Marcus Linehan, CNET will sell ads around the site. Conservation organisation WWF has been signed up as sole sponsor of the site for two months.

Other advertising includes standard online inventory, as well as site takeovers. The video facility will also include 15-second pre-roll ads, as well as a companion ad that will pop up alongside the video player.

The editorial for SmartPlanet, which includes news stories, forums and blogs, will be led by eco-expert Adam Vaughan.

The site also includes videos on issues such as cookery, using Fairtrade products, and advice on monitoring energy use.

The site has an editorial board featuring a number of green and ethical living experts, including representatives from Friends of the Earth, the Fairtrade Foundation and the Energy Saving Trust.

According to the Co-operative Bank research, The 2007 Ethical Consumer Report, the UK ethical products market is now worth £32.3bn a year, while 2.8 million Britons consider themselves to be ethically aware.

"SmartPlanet isn't about preaching to consumers or green-guilting; it's about inspiring and empowering them to make their lifestyle more green and ethical," said Vaughan.