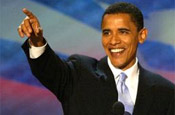 For the three presidential debate days and the single vice-presidential debate day, CNN Digital (US) was the number one most used news site with an average of 66.5 million usage minutes, which was 63% greater than MSNBC's Digital average and nearly twice the Yahoo News average.

For the three presidential debate days, CNN Digital (US) was the number one news site in total audience with an average audience size of 7.8 million unique visitors.

Video usage and political blogging across CNN.com is setting new records for audience engagement as the US election picks up speed. The increased popularity for political blogs has extended to other sites such as Huffington Post and Real Clear Politics, which have experienced a boost of nearly 500% to their traffic numbers.

During the debate period, (26 September-16 October), nine out of the top 10 CNN videos on CNN.com focused on the presidential debates, proving a growing demand for websites' video content.

With less than two weeks before the 4 November election, Democratic presidential candidate Barack Obama leads Republican rival John McCain 52% to 40% among likely voters, according to a Reuters' poll released today.