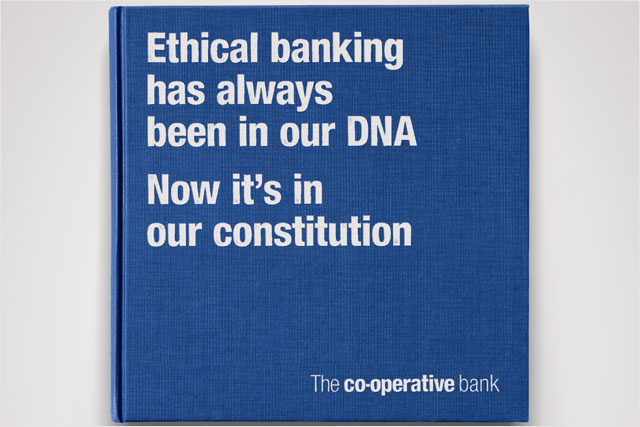 The press ads, created by Leo Burnett, seek to reassure customers that although the Co-op Group will no longer have full ownership of the bank, its ethical code will not change because it will be written into its constitution for the first time.
The creative displays a blue Co-op Bank-branded notebook displaying the words: "Ethical banking has always been in our DNA. Now it's in our constitution."
The ad is running in the Daily Mail, The Independent, The Sun, The Mirror, the Daily Express, the Financial Times, The Daily Telegraph, The Guardian and The Times. Media planning and buying was by Rocket.
The ad claims that by "continuing to have regard for the highest standards of ethical principles", the Co-op Group is "more committed than ever" to ensuring the bank "remains just as special for years to come".
Euan Sutherland, the group chief executive of The Co-Op, and Niall Booker, the chief executive of The Co-op Bank, have signed the ad.
Sutherland said on the 'Today' programme on BBC Radio 4 this morning that the ad aims to reassure customers the bank will retain its ethical credentials under new the ownership structure.
If the rescue plan goes ahead Co-op creditors, who are largely hedge funds, will own 70 per cent of shares in the Co-op bank, leaving The Co-op Group with just 30 per cent.