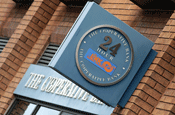 CFS, part of the Co-operative Group, has appointed an undisclosed agency to handle the account for its financial services brands in the interim period.

i-Level has handled online activity for CFS brands the Co-operative Bank, Co-Op Insurance Society and internet bank Smile for the past eight years.

The Co-operative Group is currently moving towards developing a new ethical positioning through marketing and sponsorship.

The brand has approachedagencies regarding the development of this positioning.

Earlier this month, CFS handed its search engine optimisation account toindependent search agency Greenlight, ousting incumbent agency Netrank.